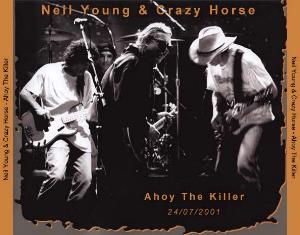 Ahoy the Killer
Rotterdam, Holland - July 24, 2001 - CD-R3 - Aud 5

Disc 1:

Don't Cry No Tears
I've Been Waiting For You
Love and Only Love
Piece of Crap
Going Home
Hold You in My Arms
From Hank to Hendrix
Don't Let it Bring You Down
Out on the Weekend
Long May You Run
Only Love Can Break Your Heart
Standing in the Light of Love
Disc 2:

Gateway of Love
Hey Hey My My
Sedan Delivery
Like a Hurricaine
Tonight's the Night
Come On Baby Let's Go Down Town
Rockin' in the Free World
Powderfinger
Disc 3:

Down By the River
Roll Another Number (For the Road)
Going Home
Pocahontas (*)
After the Goldrush (*)
Opera Star (*)
Cortex the Killer (*)
Comments: The final show of the 2001 Crazy Horse tour of Europe, over three hours in length. Plus (*) bonus tracks from the Rotterdam show on June 21, 2001. An incredible audience recording, in many ways better than a soundboard, because it's really like being there. This doesn't have the flat, muffled sound as most aud recs do, and sounds great cranked through big speakers (is there any other way to listen to the Horse?). An absolutely essential set to have. Recommended.