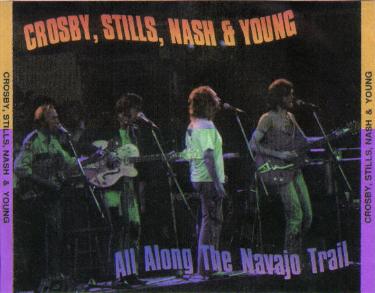 CSNY - All Along the Navajo Trail
Oakland, Ca. - July 13, 1974 - CD-R3 - Aud 5

Disc 1:

Love the One You're With
Wooden Ships
Immigration Man
Traces
Cowgirl in the Sand
Grave Concern
Black Queen
Ohio
Suite: Judy Blue Eyes
Blackbird
Human Highway
Disc 2:

Crazy Me
For Free
The Lee Shore
Prison Some
It's Alright
Our House
Long May You Run
Only Love Can Break Your Heart
Ambulance Blues
Sugar Mountain
Know You Got to Run
Disc 3:

You Can't Catch Me / Word Game
Don't Be Denied
Deja Vu
Pre Road Down
First Thing First
Long Time Gone
Revolution Blues
Pushed it Over the End
Carry On
Chicago
Comments: An excellent audience recording, especially considering its age. Other than a bit of a "flat" feeling it's quite listenable and in fact better than many soundboard recordings from the era.