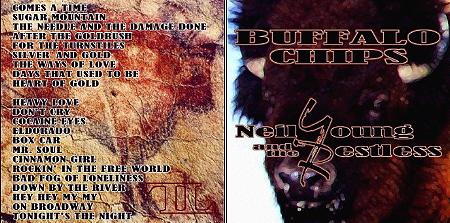 Neil Young and the Restless - Buffalo Chips
Seattle, Wa. - February 21, 1989 - CD-R2 - Aud 3

Disc 1:

Comes a Time
Sugar Mountain
Needle and the Damage Done
After the Gold Rush
For the Turnstiles
Silver and Gold
The Ways of Love
Days That Used to Be
Heart of Gold
Heavy Love
Don't Cry
Cocaine Eyes
Eldorado
Box Car
Disc 2:

Mr. Soul
Cinnamon Girl
Rockin' in the Free World
Bad Fog of Lonliness
Down By the River
Hey Hey My My
On Broadway
Tonight's the Night
Comments: The first performance ever of "Rockin' in the Free World" - even the band don't know it yet !! The always impressive Chad Cromwell on drums.