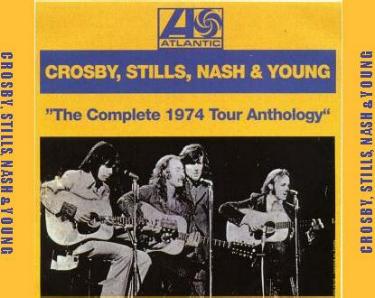 CSNY - The Complete 1974 Tour Anthology
Seattle, Wa. - July 9, 1974 - Regency - Aud 3/4

Disc 1:

Intro
Love the One You're With
Wooden Ships
Immigration Man
Cowgirl in the Sand
Change Partners
Traces
Grave Concern
Black Queen
Almost Cut My Hair
Ohio
Suite: Judy Blue Eyes
Helplessly Hoping
Blackbird
Disc 2:

Human Highway
Prison Song
As I Come of Age
Carry Me
For Free
Guinnevere
Southbound Train
Another Sleep Song
Our House
4+20
I Know You Got
Word Game
Love Art Blues
Long May You Run
A Man Needs a Maid
Disc 3:

Don't Be Denied
First Things First
Deja Vu
My Angel
Pre-Road Downs
My Favourite Changes
Long Time Gone
Revolution Blues
Pushed it Over the End
Carry Me
What Are Their Names
Word Game
Chicago
You Can't Catch Me
Disc 4:

Helpless
Military Madness
Johnnys Garden
Walk On
Teach Your Children
Only Love Can Break Your Heart
The Lee Shore
Time After Time
Hawiian Sunrise
Simple Man
Ambulance Blues
On The Way Home
Sugar Mountain
Star of Bethlehem
Old Man
Mist of Sisphyus
Geetarz Comments: Discs 1-3 are recorded live in Seattle July 9th, 1974. Disc 4 is recorded live in New York September 8th (Tracks 1-9), in Kansas July 19th (Tracks 10-12), Oakland July 14th (Track 13) and London September 14th (Tracks 14-16). Limited Edition of 500 copies.
Visitor Comments:
"A very good overview of their '74 tour reunion. The sound is somewhat muddy but the songlist is great! A brilliant overview of all their songstyles, from heavy rock to acoustic ballads. The tension between steven and neil in the electric sets is obvious. The ballads sung by david and graham are crystal clear. There is room for every musican to play his part to the best. The atmophere is very comrady, very in touch with each other. A shame that these guys did not make another record after deja vu, it would have been outstanding! In 1974 they were rocking and playing like no others; the best concerts of their careers!" - Anonymous


"This is the one flawless,most fabulous show of all the concerts I have attended. In my memory it surpasses The Beatles in St. Louis 1966, app. 90 Grateful Dead shows from 1973 thru 1995,Clapton,Stones,Who,Allmans,REM,Flaming Lips,Steely Dan,etc. I wish I had a time machine and a good tape recorder;The pinnacle of my adolescence..." - Anonymous