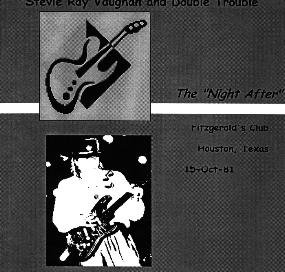 The Night After
Fitzgerald's Club - Houston, Tx. - October 15, 1981 - CD-R1 - qun

Track List:

Rude Mood
Tin Pan Alley
Close to You
Love Me Darlin'
Love in Vain
Texas Flood
Slide Thang
Manic Depression
Don't Lose Your Cool
Wham!
Comments: Good audience recording, a tad boomy but very listenable.