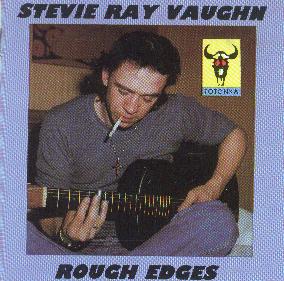 Rough Edges
Studio and Live, 1979 - Totanka, CDPR019 - Quality varies

Track List:

Rude Mood
Guitar Hurricaine
Pride and Joy
Texas Flood
Tell Me
Love Struck Baby
You Can Have My Husband
Ti Nan Ni Na Nu
Maybe
Sugar Coated Love
Oh Yeah! Baby's Gone
In the Open
Last Night
Hideaway
Will My Man Be Home Tonight
Hip Hip Baby
Collins Shuffle
Rough Edges
Red, White, and Blue
Comments: Track information from Bob Willmott's site:
Tracks 1-12 may have been recorded at the Tempico Grande, Felton, CA, 1979
Tracks 13-17 are probably from the KFAT "Fat Fry", Gilroy, CA, 20aug79
Track 18 includes SRV w/W.C Clark on guitar and the Cobras. Originally
released as a Cobra's single on [Hole Records, HR-1520], 1979
Track 19 is taken from Stevie's early record with The Cast Of Thousands
entitled "A New Hi" [Tempo 2, T2-1], from 1971.
Sound quality on tracks 1-12 is good but has a pronounced wow effect on
some tracks. Tracks 13-17 are excellent quality, as is the Cobra's
track. The track from 1971 has been recorded from a somewhat scratchy
record but is still very listenable.