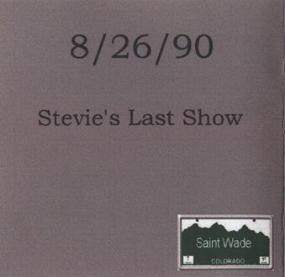 Stevie's Last Show
Alpine Valley - August 26, 1990 - CD-R2 - aud 4

Disc 1:

Testify
The House is Rockin'
Tightrope
Things I Used to Do
Let Me Love You Baby
Leave My Girl Alone
Pride and Joy
Wall of Denial
Riviera Paradise
Disc 2:

Superstition
Couldn't Stand the Weather
Going Down
Crossfire
Voodoo Chile
Sweet Home Chicago
Comments: After the tragedy, people who had been at this performance all spoke about how intense it was. Eric Clapton talked about being backstage, listening to Stevie play, and thinking "and I have to *follow* this guy?" On hearing these comments, it was easy to dismiss them as sentiment, the act of people wanting to remember Stevie's last show as being really one his his best ever. And then you hear the recording and WOW - they were all right! A simply superhuman, spot-on-the money performance, easily one of Stevie's best ever. If he wasn't already a legend, this one recording would have put him on the map instantly. This one isn't just an important document of Stevie's last performance - it rocks!