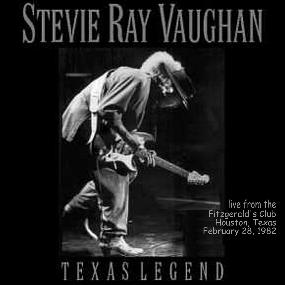 Texas Legend
Fitzgerald's, February 28, 1982 - CD-R2 - aud 3

Disc 1:

Voodoo Chile
Come On
You'll Be Mine
Tin Pan Alley
I'm Crying
Lovestruck Baby
Happy Birthday (on slide!)
Heart Fixer
Disc 2:

The Sky is Crying
Jam 292
Too Tired
Little Wing
Third Stone From the Sun
Manic Depression
Rude Mood
Comments: An audience recording, but the guitar is real up-front and prominent in the mix - and what else matters? . Interesting performance of "Happy Birthday" with Stevie playing slide. Disc 2 features a killer version of "The Sky it Crying".