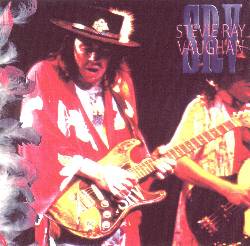 Stevie Ray Vaughan - Thanksgiving Night
Recorded live at the Cascade Room at the Knickerbocker Cafe, Westerly, RI, on November 22, 1979 - Dandelion - DL 009 - 71:03 - aud5/sb5?

Track List:
1) True Love is Gone
2) Pride and Joy
3) Love Struck Baby
4) Instrumental
5) Stevie's Blues
6) Jeff's Boogie
7) The Sky is Crying
8) May I Have a Talk With You
9) So Excited (intro theme for Lou Ann Barton) / You Can Have My Husband
10) Ti-Ni-Nee-Ni-Nu
11) I'll Change
12) Oh, Yeah
13) Natural Born Lover
14) Hip Hip Baby
15) If You Lose Me, You Lose a Good Thing
16) Texas Blues

Note: Mix is hard to define, vocals sound like an oversaturated soundboard recording but guitar and bass sound more distant, like an audience recording. Nevertheless, very listenable show.