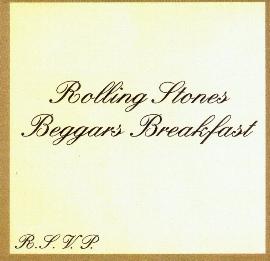 The Rolling Stones - Beggars Breakfast
Studio Outtakes - Invasion Unlimited - IU 9411-1 - sb6

Track List:
1) Gimme Shelter - early mix with Keith Richards on vocals
2) Brown Sugar - early mix with different lead guitar by Mick Taylor
3) Stop Breaking Down - early mix with different Mick Jagger lead vocal
4) Shake Your Hips - Rehearsal take recorded in Montreaux, March 1972
5) Loving Cup (Version 1) - Early version recorded at the same session as 'Honky Tonk Woman', June 1969, first session with Mick Taylor
6) Loving Cup (Version 2) - The same song, recorded two years later, finally appeared on 'Exile on Main Street' but this is a very different early mix with different vocals and much longer in duration.
7) Shine a Light - Again, a different mix with different vocals.
8) I Ain't Lying - A song work-out/improvisation which was never developed any further and therefore remains unreleased. Recorded circa 1970
9) Sway - early mix from acetate
10) Sweet Virginia - early mix with additional keyboards and no backing vocals
11) I Don't Care - same as 'I Ain't Lying'
12) Sympathy for the Devil - An excerpt from the recording sessions, as seen in parts in Jean Luc Godards "One Plus One" film, March 1968
13) Tell Me - alternate version, never released, late 1963
14) Rice Crispies Jingle - advertisement for radio use only, recorded in the USA, 1964
15) You Can't Judge a Book By the Cover - An excerpt from the first ever Rolling Stones studio session, October 1962, taken from a battered 4 song acetate, played on the radio by proud owner, Chris Jagger.