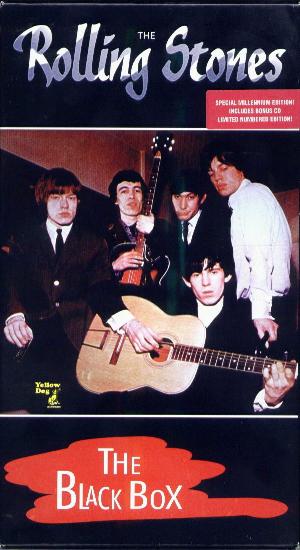 The Black Box - Millenium Edition (With Bonus Disc)
Vadious - Yellow Dog - Mostly SB 6

Review: ChrisM42@aol.com
The first CD of the set takes a look at the early years of the band with a retrospective of alternate
takes and unreleased titles in excellent sound quality.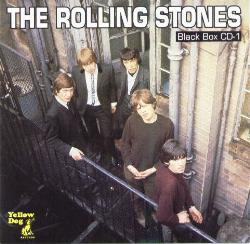 CD-1 (70:10)
HEART OF STONE 2:49
The released version of the song in mono.
NOT FADE AWAY 1:49
An alternate take with a different harp track.
AND MR. SPECTOR AND MR. PITNEY CAME TOO 3:18
More or less the instrumental version of Andrews Blues. A.k.a. 1964 Blues Jam on some releases.
ANDREW'S BLUES 3:04
Vocal by.......Gene Pitney. He says thank you at 2:01 when Jagger mentions his name during his vocal piece of the song.
Supposedly, rare acetates of this song were made for members of the band with "Between The Buttons" like cartoons on
the labels drawn by Charlie Watts!
DON'T LIE TO ME 2:05
The early 1964 studio ("Metamorphosis") version of the Chuck Berry song. Also covered live by the band on the BBC
in 1964, and Ft. Worth, TX 6/24/72.
HI HEELED SNEAKERS 2:59
The following five tracks (excluding Look What You've Done) originally surfaced on the early seventies release
"Bright Lights Big City" (RS 541) on Trade Mark of Quality. There is an interesting story of how this first recording
of rare acetates was made in the book "Bootleg: The Secret History Of The Other Recording Industry",
a.k.a "The Great White Wonders" in the UK by Clinton Heylin on page 87.
These songs were recorded at Chess Studios, Chicago, June, 1964.
STEWED AND KEEFED 4:12
This is the same "cleaned-up" (no acetate pops) version that first appeared on "Mad Shadows" on Scorpio (SC-91022)
and "Bright Lights Big City" Anniversary Edition (TSP-CD-BLBC).
LOOK WHAT YOU'VE DONE 2:20
Jagger introduces the title of the song, but other than that it's similar to the released album take.
A Muddy Waters song, recorded 6/64 at Chicago Chess Studios.
TELL ME BABY, HOW MANY MORE TIMES 1:57
A "Big" Bill Broonzy number.
DOWN IN THE BOTTOM 2:43
Exhumed for the 1995 European Tour. Written By Willie Dixon and also performed by early Stones inspiration
Howlin' Wolf.
WE'RE WASTING TIME 2:53
From the non-US versions of "Metamorphosis" with a slightly longer intro and outro. This and the following four tracks
were cut with a studio session band and/or the Oldham Orchestra. Recording session date: July-Sept., 1964.
Sort of a country feel to this, which didn't surface on record until High and Dry on "Aftermath" in 1966.
HEAR IT 2:53
An instrumental track with Keith possibly on acoustic guitar and an Oldham orchestrated back-up arrangement.
Recording date: July-Sept., 1964.
SLEEPY CITY 3:05
A Jagger vocal demo from "Metamorphosis". Recording date: July-Sept., 1964.
TRY A LITTLE HARDER 2:27
Another "Metamorphosis" track with count in. Recording date: Jul-Sep.,1964.
SOMETHINGS JUST STICK IN YOUR MIND 2:31
Again from non-US versions of "Metamorphosis". A vocal demo recorded with session musicians.
AS TIME GOES BY 2:15
Alternate vocal/electric guitar take of As Tears Go By in best quality sound.
BLUE TURNS TO GREY 2:41
An Oldham orchestrated horn induced alternate that would have fit the standard set by the other early tracks found on
"Metamorphosis", but not part of that compilation. Recording date: Nov., 1963.
SATISFACTION 3:44
An instrumental version of the song that has been in circulation for some time, but this is the best quality.
LOOKING TIRED 2:15
Another of the original "Bright Lights Big City" tracks this time the recording source is
RCA Studios, LA, Sept., 1965. The guitar riff is lifted from Robert Johnson's 32-20 Blues, which he lifted from a piano
blues by Delta Bluesman Skip James called 20-20 Blues! The earliest Johnson influenced Stones song I have come across.
PAINT IT BLACK 2:22
An instrumental version of the song that has been in circulation for some time, but this is the best quality.
Recorded in March, 1966.
LADY JANE 3:10
The vocal is way in the back on this, but audible.
GET YOURSELF TOGETHER 3:10
The vocal version of this title in best quality. Out of place for a 1966 track. It might have worked on
"Between The Buttons".
HAVE YOU SEEN YOUR MOTHER BABY STANDING IN THE SHADOWS #1 2:31
Only the backing vocals are present.
HAVE YOU SEEN YOUR MOTHER BABY STANDING IN THE SHADOWS #2 2:32
An alternate take.
LET'S SPEND THE NIGHT TOGETHER 3:56
Noticeable "wow" on the tape source in a couple of places. Only the backing vocals are present.
Recorded in January, 1967.
The following eight songs through My Obsession are instrumentals in excellent quality that first surfaced on a
CD titled "Karaoke" (VTCD YD 033) on the same label, and also included lyric sheets written in English and Japanese.
These are interesting tracks despite being instrumentals, because there is a great deal of production to be heard on
these Pop efforts by a Rock 'n Roll band.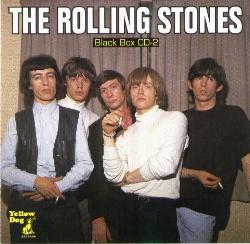 CD-2 (73:51)
GET YOURSELF TOGETHER 3:38
This song a.k.a. Can't Believe and I Can See It. Vocal version on CD-1.
LET'S SPEND THE NIGHT TOGETHER 3:49
Instrumental version.
ALL SOLD OUT 2:48
Instrumental version. Keith's put a couple of pick slides on this that I hadn't noticed before.
YESTERDAY'S PAPERS 3:10
Instrumental version.
RUBY TUESDAY 3:27
Instrumental with count in.
COMPLICATED 3:25
Instrumental version.
PLEASE GO HOME 3:20
Instrumental version.
MY OBSESSION 4:08
Instrumental version.
COSMIC CHRISTMAS 0:33
There is also a rare unauthorized 7" of this song on green vinyl that has stereo/mono versions of just this track.
Play it backwards and see what happens!
FAMILY 3:48
A droll song from " Metamorphosis".
DOWNTOWN LUCY 3:38
This is an alternate version without the annoying skip that has shown up on a number of recordings.
HAMBURGER TO GO 3:25
Best quality version with just a single subdued "pop" at 2:30. Also mistakenly referred to as "Stuck Out All Alone",
and labeled as "Give Me a Hamburger" on the original vinyl release titled "Trident Mixes" on
K&S records (MCG/KS-072-A/B/C/D). The actual title of this song first surfaced in "The First Twenty Years", 1981 by
David Dalton on page 190 (sessionography by Tom Beach & James Karnback). Recorded at Olympic studios, Spring, 1968.
A Beggars Banquet session.
I'M A COUNTRY BOY 4:30
Another of the original "Trident Mixes" instrumental tracks. Recorded at Elektra, Hollywood, Nov.-Dec., 1971,
during the mixing and dubbing of the "Exile" sessions.
MEMO FROM TURNER #1 2:49
Sounds like session man Jimmy Page is putting the violin bow to the Paisley Tele? "Metamorphosis" version of the song.
MEMO FROM TURNER #2 3:59
A great "intermediate" version. Somewhere between the "Metamorphosis" version, and the Ry Cooder "Performance"
movie take. This is probably the Olympic, 1968 take. A groove track!
SISTER MORPHINE 5:26
Album version taken from an acetate mix down. Some surface noise.
STILL A FOOL 9:59
Mistakenly referred to as Two Trains on many occasions. This is the studio version of the Muddy Waters classic.
Distorted vocal maybe through a harp mic. Check out the Muddy Waters original on the MCA/Chess release
"The Best Of Muddy Waters", order no. CHD-31268. Two of the songs are recorded from vinyl, but these tracks represent
the early roots of The Rolling Stones. Played live for the first time on the '95 European Tour.
YOU GOT THE SILVER 2:50
The Jagger vocal version for the 176th time.First surfaced on the "Accidents Will Happen" 2LP in the early `80's.
HIGHWAY CHILD 5:03
A.k.a. The Vulture. Recorded at Keith's house at Redlands, July, 1968. A jam with Keith experimenting with
chord changes. At one point it starts sounding like the old .38 Special song Hold On Loosely! Best sounding version.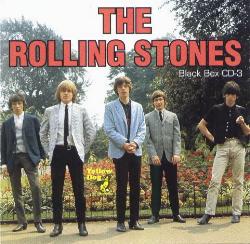 CD-3 (67:01)
SYMPATHY FOR THE DEVIL 5:57
Compressed sound with "who..who's" way down in the mix. There are also a
few bars edited from Keith's solo. Recorded at Olympic studios in June, 1968.
COUNTRY HONK 3:04
Missing the fiddle track and the familiar car horn. A transitional song that reveals the influences of the time.
Gram Parson's turning Keith on to the soul of country music, and open tunings that were prevalent in the
Country (Delta) Blues. Even the Rock version of the song reflects the impact of working with Ry Cooder during the
"Let It Bleed" sessions, and Keith's enduring preference for Open G tuning that followed. His earlier efforts with
open tunings were in open D & E on songs such as Child Of The Moon, Street Fighting Man (studio), and Prodigal Son.
GIMME SHELTER 4:22
A different mix and vocal. Lot's of bass in the opening bars of the song. Minus the Merry Clayton vocal.
Recorded at Olympic Studios in May-June, 1969.
LOVIN' CUP 6:31
This could be the pre-Hyde Park studio version of the song. First surfaced on "Time Trip 1969-1973 Vol. 1"
on Scorpio. Possibly from a May-June session at Olympic in 1969.
JIVING SISTER FANNY 3:14
Muffled sound with a different vocal take. Taylor burns it up.
HONKY TONK WOMAN 3:06
A studio version of the song containing the Paris verse that was only heard on early 70's live versions of the song.
Also missing horn arrangements. Recorded at Olympic Studios in May-June, 1969.
ALL DOWN THE LINE (acoustic) 4:22
One of the great examples of how the band can evolve songs. Slow acoustic guitar version. First surfaced in the late
70's, but this has excellent clarity and corrected speed. Recorded at Elektra studios in LA, Oct., 1969.
ALL DOWN THE LINE (electric) 3:47
This is not the 7" single version of the song that usually shows-up on these recordings.
Different mix, and harp solo at 3:05. An Olympic Oct.-Nov., 1970 recording.
I DON'T KNOW THE REASON WHY 5:57
Not hard to guess why this hasn't been released. A shorter version of the song.
I'M GOING DOWN 3:04
Last of the "Metamorphosis" songs. It's the familiar guitar restart album version. Hard to say whether this is a
production error or a retake by Keith.
YOU GOTTA MOVE 2:35
An alternate take of the Mississippi Fred McDowell classic. There is a lot of vocal reverb at the beginning, and the
slide guitar goes into a "wah" effect at the end. A Muscle Shoals, Dec., 1969 recording. Part of the work at this
studio is documented in the "Gimme Shelter" movie. Fred's original version of "You Got To Move" is found on
"Fred McDowell Vol. 2" on Arhoolie Records. Order no. F 1027.
BROWN SUGAR #1 3:43
The earliest known version. Some of the fundamental tracks are inherited by later takes. Muscle Shoals, Dec., 1969.
BROWN SUGAR #2 4:29
Starts-stops-restarts-stops-restarts. Sloppy production by the manufacturer of atake that is very similar
to the album.
BITCH 2:24
This is the album version of the song that starts off with some subtle cymbal tapping just before the start,
and completely wipes out at 2:18 when the tape fouls-up.
GOOD TIME WOMAN 3:19
The well known first version of Tumbling Dice. An Olympic, Oct., 1970 recording.
SWAY 3:33
The 7" single version. A different mix and take.
SCHOOLBOY BLUES 3:30
The infamous let's make the last song we owe Decca a real good one! Recorded at Olympic in May, 1970.
The origins and inspiration are explained by Marshall Chess in the opening 10 minutes of the movie with the same title.
Interestingly, the song was rehearsed at the Woodstock rehearsals in preparation of the 1978 US Tour.
Was Jagger reminded of this song by a copy of an unauthorized recording purchased while in New York? He commented on
unauthorized recordings at some length in an interview from the early 70's.
Found on the LP "Highway Bound" on Tofu records. There's something on this box set for everyone.
First ever releases of some songs and best quality version of the older ones. Jagger isn't too keen on the concept of
retrospective box sets these days, so this is probably as good as it gets. Chris M.
---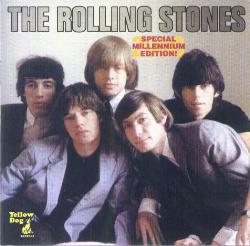 Black Box Disc 4: Bonus Millenium Edition:

CONFESSIN' THE BLUES
I'VE BEEN LOVING YOU TOO LONG (TO STOP NOW)
POISON IVY
FORTUNE TELLER
TIME IS ON MY SIDE
CON LE MIE LACRIME
DA DOO RON RON
WE LOVE YOU
DANDELION
19TH NERVOUS BREAKDOWN
YESTERDAYS PAPERS # 1
GIMME SHELTER # 2
SISTER MORPHINE # 1
BROWN SUGAR
WILD HORSES
SISTER MORPHINE
rare telephone call from Japan