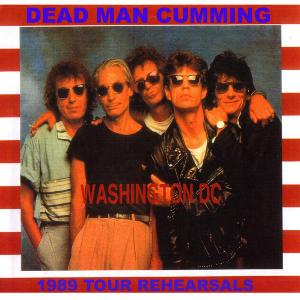 Dead Man Cumming - Washington, D.C.
Washington, D.C. - September 23, 1989 - The Eternal Records - RSCDX 610/624 055-2 - SB 6

Disc 1:

Start Me Up
Bitch
Shattered
Sad Sad Sad
Undercover of the Night
Harlem Shuffle
Miss You
Tumbling Dice
Ruby Tuesday
Play With Fire
Dead Flowers
Disc 2:

One Hit (to the Body)
Mixed Emotions
Honky Tonk Woman
Rock and a Hard Place
Midnight Rambler
Can't Always Get What You Want
Little Red Rooster
Disc 3:

Before They Make Me Run
Happy
Paint it Black
2000 Light Years From Home
Sympathy for the Devil
Gimme Shelter
It's Only Rock and Roll
Brown Sugar
Satisfaction
Jumpin' Jack Flash
Comments: Excellent soundboard, soundcheck and rehearsals. Note - the dates listed above on the cover art are incorrect, this is actually a complete rehearsal set from August 28 in Philadelphia, Pa. as follows:


Empress Valley, soon after this came out, released Dead Man Cumming, which is
also misidentified. The artwork says it is rehearsals from Washington D.C. and
Foxboro, but actually both are from Philadelphia. This set includes a complete
rehearsal set from August 28 (on three discs), and the August 29 set on two
discs in slightly less "tinny" sound quality than Better Than the Real Rebirth.

These rehearsals, from either title, are among the best of the best quality
Stones boots. The set list is fantastic, and the Stones are performing two
complete performances of the August 31 opening night show, from start to
finish. They include two complete performances of Shattered, which was only
performed on opening night and then dropped for the rest of the 1989-1990 tour.
The power went out during the performance on August 31, and apparently someone
in the Stones was superstitious, so they never did the song again that tour.