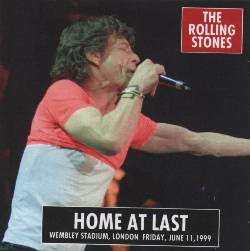 The Rolling Stones - Home at Last
Wembley Stadium, June 11, 1999 - lun - aud6

Disc 1:
1) Jumping Jack Flash
2) You Got Me Rocking
3) Live With Me
4) Respectable
5) Gimme Shelter
6) Ruby Tuesday
7) Honky Tonk Women
8) Saint of Me
9) Out of Control
10) Paint it, Black
11) You Got the Silver

Disc 2:
1) Before They Make Me Run
2) Route 66
3) Like a Rolling Stone
4) Midnight Rambler
5) Sympathy for the Devil
6) Tumblin' Dice
7) It's Only Rock and Roll
8) Start Me Up
9) Brown Sugar
10) Satisfaction
Filler (not on original):
11) I Got the Blues (London, Sheperds Bush, 1999)
12) Some Girls (Toronto 1999)
13) Moonlight Mile (Toronto 1999)

Note: Sounds at first like a board recording but is in fact an excellent quality audience recording. Only in some very quiet parts, especially in Midnight Rambler, can you hear some near crowd noise. Very well balanced, with the vocals a tad high in the mix. Lisa Fisher's vocals on "Gimme Shelter" are incredible, and Sheryl Crow guests on "Honky Tonk Woman".