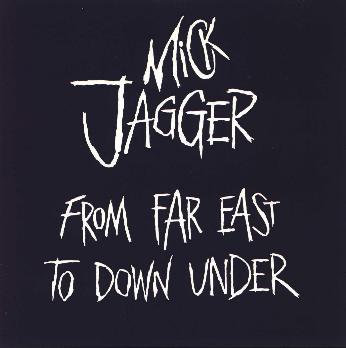 Mick Jagger - From Far East to Down Under
1988 Tour - Swingin' Pig - TSP-CD-130-1/2 - SB 6

Disc 1:

Just Another Night
Honky Tonk Woman
Throwaway
Tumbling Dice
Miss You
Harlem Shuffle
Radio Control
Ruby Tuesday
Lonely at the Top
Little Red Rooster
It's Only Rock and Roll
War Baby
Disc 2:

You Can't Always Get What You Want
Foxy Lady
Party Doll
Wild Colonial Boy
Gimme Shelter
Start Me Up
Brown Sugar
Jumping Jack Flash
Sympathy For the Devil
Satisfaction
Brown Sugar
It's Only Rock and Roll
Comments: Anyone who has ever been tempted into thinking that Mick Jagger, or even Mick Jagger and Keith Richards, *is* the Rolling Stones, needs listen to this 2-CD set to be proven wrong. Not that it isn't entertaining, or enjoyable - but the Rolling Stones, it AIN'T! This release serves as proof of the contributions of Charlie Watts, Bill Wyman, and Ron Wood - not to mention Keith Richards. This isn't meant in any way to put down the fine musicianship shown here, merely instead to show that there's more to the Stones' music than fine musicianship. Recorded live in Melbourne, Australia on 10/15/88, Richmond Australia on 10/19/88 and Tokyo Japan on 3/23/88.