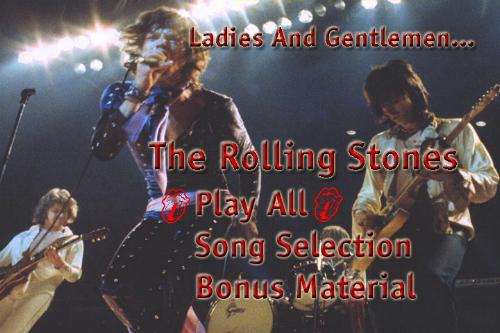 The Rolling Stones - Ladies and Gentlemen
1972 Tour Documentary - 4 Reel Productions - DVD-R1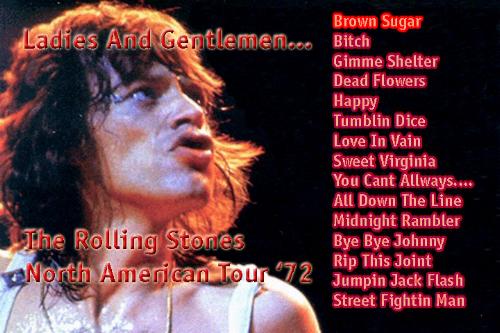 Comments: For the group's 1972 American tour, photographer and experimental filmmaker Robert Frank was brought along to make a movie about the Stones; Frank was given total access to the band's activities both on- and off-stage, and he put every scandalous moment of The Stones' debauched lifestyle into Cocksucker Blues -- so much so that the band successfully pursued legal action to prevent the film from being released, though Frank was given permission to screen the film once a year. In its place the band released "Ladies And Gentlemen ... The Rolling Stones". There are many versions of this classic in circulation, most from fairly high generation VHS sources - this one, titled "4 Reel Productions" is the best of the bunch and not only features excellent quality letterboxed video but nice menus and bonus tracks as well. Recommended.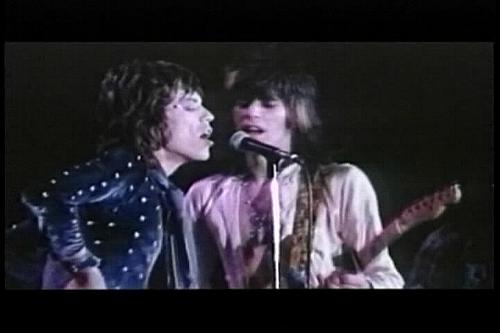 Visitor Comments: "Some of this has appeared in the Maysles documentary...the classic MSG '72 show. It's all great stuff and all, but it was obviously heavily overdubbed in the studio. At times Mick can be heard singing away from the mic (see "Happy") and it all is a bit too over-produced fer my tastes. Mick Taylor doesn't shine as much as say the BRUSSELS AFFAIR show, which has the most amazing Tumbling Dice I've ever heard. I'd say it's a good introduction to the band er newbies, but fer the hardcore, find the Marquee video. Of course, 4REEL is always quality. Certainly the best versions anywhere. You know ya won't be wasting yer time, or money, getting a 4REEL Production. Don't blame 4REEL fer this over-produced, watered down live Stones...blame the heron." - Anon