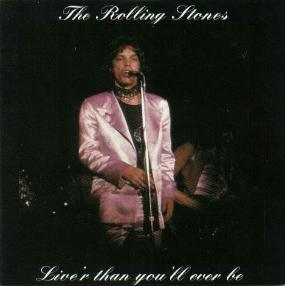 Live'R Than You'll Ever Be
Oakland Coliseum, Oakland, Ca. - November 9, 1969 (2nd show) - Swingin' Pig - TSP-CD-043 - aud 4

Track List:

Jumping Jack Flash
Carol
Sympathy For the Devil
Stray Cat Blues
Prodigal Son
You Gotta Move
Love in Vain
I'm Free
Under My Thumb
Midnight Rambler
Live With Me
Gimme Shelter
Little Queenie
Satisfaction
Honky Tonk Woman
Street Fighting Man
Comments: This is a legend in the annals of underground recordings, one of the first commercially available bootlegs. Released shortly on the heels of "Great White Wonder", a Bob Dylan bootleg that set the music industry on its ear, "Live'r" captured the essence of the Stones live in concert. Since that original release, it's been reissued dozens of times by different labels. This Swingin' Pig release on CD dates to 1990.
The "LIVEr Than You'll Ever Be" Story:
The recording and distribution of "LIVEr Than You'll Ever Be" is a landmark historical achievement for many reasons. The recording itself is a high quality audience source. The equipment and method used to produce this piece of Rock 'n Roll history is well documented in the book "Bootleg" by Clinton Heylin, 1994:
"What I used was a Senheiser 805 'shotgun' microphone and a Uher 4000 reel-to-reel tape recorder, which was real small, 7 1/2 inch per second 5" reels"
The LP was released in December 1969 just over a month after its November 9th, 1969 (2nd show) recording. Although original issues were put out on the Lurch label the recording was actually produced and manufactured by a label that would become known as Trade Mark of Quality (TMoQ). TMoQ was the pioneer record label in the rock 'n roll bootleg business. They put out many LP's from artists ranging from Joni Mitchell to Jethro Tull. They were also responsible for the first unauthorized rock bootleg "Great White Wonder" which consisted of the Dylan "basement tapes" among other things.
"LIVEr Than You'll Ever Be" is not only significant because of its place in the bootleg history, but also because of the mood and feel that it captured as the Rolling Stones returned to live performances for the first time in over three years with new guitarist Mick Taylor. Jimi Hendrix, The Doors, and The Cream had all happened since the last tour through the States. Guitar heroes and songs with great solos were the talk of the day. There was a stark difference between the screaming crowds that marked the close of their last US tour in Hawaii July 28, 1966, and the audiences they were now facing who were sitting down during the shows and listening to the music. The Oakland performances were early in the tour and the band was still getting acquainted with itself in a live setting with sound systems that could be heard in the far reaches of the stadiums they were playing in. The recording is primal in it's musical depth compared to the well known "Get Yer Ya-Ya's Out!" commercial release from the 1969 tour. There are no vocal or instrumental overdubs on LIVEr which enables the listener to compare the band early in the tour to the slicker overdubbed recording that would represent a band that had musically evolved very quickly during the course of the tour. It has been written that "Get Your Ya-Ya's Out!" was released to counter sales of this record. There is a tremendous amount of folklore around LIVEr, most of which was promoted by the press that reviewed and wrote about the recording at the time of its release. The following excerpt from a "Rolling Stone" magazine review by Greil Marcus dated February 7, 1970:
"How it was recorded is more interesting, because the sound quality is superb, full of presence, picking up drums, bass, both guitars and the vocals beautifully. The LP is in stereo; while it doesn't seem to be mixed, the balance is excellent. One of the bootleggers says the recording was done on an eight-track machine... So these may in fact be tapes that were made on the stage by someone involved in setting up the Stones' own sound system"
Reviews like this were amusing for the guys at TMoQ, but not for record companies or the recording industry. ABKCO followed-up with a press release stating that Baltimore and New York shows were taped by the band for future release, but that no West Coast shows were taped. This isn't completely true as footage from LIVEr show in Oakland was used in the "Gimme Shelter" movie. It's the part where Jagger says: "You really dressed-up tonight...". Trade Mark of Quality takes full credit for the searches for tape recorders before shows as a result of their work in recording West Coast shows of the Rolling Stones in 1969. This would only be the tip of an iceberg with ensuing iterations of copyright law and royalty claims that artists and record companies would mount against the emerging underground recording industry.
The set list for the original "LIVEr Than You'll Ever Be" LP:
Side One:
Mick: Sh*t, Hang on a minute. Can you hear that? Keith play a bit...
These lines are from Oakland, November 9th, 1st show. They were spoken immediately after Jumpin' Jack Flash when the band blew their amplifiers in the first show and inserted the acoustic set. This was spliced in the second show performance in order to provide a better opening point for the LP (Carol), because TMoQ was not happy with the sound quality of the second show Jumpin' Jack Flash on the tape. They didn't want to start the LP with a bunch of Thank You's!
Jagger's actual words before Carol for the 2nd show were:
Thank you
Thank you
Thanks very much
(Terrible)
Aw yeah, we're really pleased to be back here
Really, no bull sh*t
We're really gonna give you
We know it's a bit late
We know it's a bit late
But a, we hope you don't mind if we stay
Carol - This version has a very "smoky" guitar sound and rumbles like a freight train coming down the tracks. The LP starts with the second song of the set as later releases would reveal a level drop-out problems on the original source tape with Jumpin' Jack Flash and Under My Thumb.
Oh. All Right! (splice) You got an echo on now? He's got echo. Let's do it with echo then...
Gimme Shelter - This song wasn't a regular set list item in 1969 and although not as musically intense as the Altamont excerpt heard in the "Gimme Shelter" movie it certainly fits the bill as a haunting rendition of the song.
Oh yeah. Gimme some shelter. Gimme some shelter (splice).
Sympathy for the Devil - The Rolling Stones were improvising live performances of their studio releases in 1969. Keith and Mick Taylor each play solos with Richards in the middle section of the song and Taylor at the end. The samba beat is diminished by a simple three chord rhythm and the lack of backing who...who's.
Whoow
Ohhhhhwooo
Aaw well all right (splice)
Waiting on you
Wheehoo wheehoohoo
All right here we go, slowly rocking on...
I'm Free - Taylor lays an incredible tapestry of guitar solos in melodic free form across the rhythm of the song. Not played often on the 1969 tour. It didn't seem to be a big crowd pleaser in the eyes of the Stones. One of those songs where people sat down and listened.
Oooohhooo (splice)
Rock 'n Roll, now here we go....
Live With Me - The release of LIVEr allowed fans to hear the studio version and live version as simultaneous releases. Let It Bleed had not even been released at the time of the Oakland show, with the song being completely new to those who heard it that evening.
Whooo, oh, thank you, thank you that was called Live With Me, your welcome....
Side Two:
As you may have imagined
This is blues time...
And we gonna do one more blues yet, yet awhile
This is a new one we do man, and it's called aahh, Love In Vain
Love In Vain - The brilliant Rolling Stones arrangement of the Robert Johnson classic originally recorded in 1936. Former Mayall Bluesbreaker Mick Taylor burns up a silky slide. Like Johnson, Taylor's slide is played with extreme cleanness and clarity. Jagger's vocal after the first solo break is lifted by the virtuosity of the passage.
Oh, I got right carried away with it
We're gonna do...
We're gonna do one a new one
What ever you do...
Do I get a microphone for this anymore (harmonica)
Or it doesn't happen?
OK. I'll try it with this one
Midnight Rambler - A Chuck Berry riff perversely distorted into a graveyard chug about none other than the Boston Strangler. The live version played in November 1969 flows much more smoothly than the studio version that would be released a month later. Jagger asks the crowd to shake their asses. Perhaps insecure about the somewhat unanimated reception of the Oakland/San Francisco audience.
Oh, All Right!
We're gonna see you
I think you really...
You've really dressed up tonight
And I think
We haven't really dressed up that much
But we'd like to we how you look
Can we see how they look?
Let's have a look, how they look, c'mon
Oh we just wanted to see how they look
Ahhhooo ,we couldn't see you
We couldn't see you
We're gonna do one
From a long long while ago
When we was
A all a falling out of our cradles
Little Queenie - The crowd claps along with Charlie's dead on drum beat. Another Chuck Berry classic featured for the first time in the 1969 tour set. Keith bends the double stops for a rockin' solo.
C'mon San Francisco
Let's see how you can shake your asses
Come on, let's get it on
Whooo
We're gonna have a good time
All Right
Come on let's have a good time
Come on, shake it on
All right
We want you to help us sing on this one
We really need ya
Because a we're a little hoarse
And there's a very high note
That the chicks can all get into, right?
We'd really dig it if you could
Ahh it pretty high, all right
Honky Tonk Women - Confidence is definitely building as the band plays on, and by the time they reach this one they're in full flight. This seals the success of the show for sure with people clearly enjoying themselves and the revitalized Rolling Stones.
Whooo
All Right, All Right, All Right, All Right, All Right, All Right
AllWhoo Right
Street Fighting Man - Raw and gritty the show builds to a crescendo with what would ultimately become a powerful closer for Rolling Stones shows for some years to come. This one jams with a strong rhythm guitar outro by Keith with Charlie hammering away in a frenzy. This is Rock 'Roll baby.
To say that the recording was prolifically copied would be an understatement. The original and earliest recordings of Oakland 1969 were done with plain white record jackets with rubber stamped titles. They came with nice printed LP labels though. The Lurch label is black and red with song titles, the Cannabis label is beautiful maroon with gold lettering. There were two types of TMoQ logos: The first was that of a sideways pig with the words Trade Mark of Quality circling around. The second was a later incarnation of the label which represented itself with a smoking pig label. The matrix numbers also varied: LP's with RS (Rolling Stones) codes in the inner runner of the vinyl are first run TMoQ pressings. Ones with the only 4 digit numbers are indicative of second generation TMoQ (except for the Lurch LIVEr plates).
Examples of the LIVEr variations:
LIVEr Than You'll Ever Be/Label: LURCH/Matrix Number: X14327/X-14328
The original! Black vinyl, printed record labels, no song separation, and blue rubber stamped cover.
LIVEr Than You'll Ever Be/Cannabis/BJ 7000
Smaller black rubber stamped cover.
The Rolling Stones In Concert/Berkeley Records Ltd./4054 A/B
Laminated B&W 1969 tour book cover
LIVEr Than You'll Ever Be/Image Disc Inc./No Matrix Number
Picture Disc. A limited edition of 1000 pressed. Color Jagger/Richards circa 1975.
LIVEr Than You'll Ever Be/Trade Mark of Quality/X14327/X-14328
Red Vinyl. Original Sideways Pig Record Labels
LIVEr Than You'll Ever Be/Trade Mark of Quality/X14327/X-14328
Yellow Vinyl. Original Sideways Pig Labels. Reprint of "Rolling Stone" article used for paper insert.
LIVEr Than You'll Ever Be/Trade Mark of Quality/RS 510 A/B
Red Vinyl. Number Labels. Red rubber stamped cover with orange Trade Mark of Quality sticker.
LIVEr Than You'll Ever Be/Trade Mark of Quality/RS 510 A/B
Green Vinyl. Number Labels. TMoQ "standard" angled rubber stamped cover with red Trade Mark of Quality sticker.
LIVEr Than You'll Ever Be/Trade Mark of Quality/RS 510 A/B
Black vinyl, white record labels. Reprint of "Rolling Stone" article used for paper insert.
LIVEr Than You'll Ever Be/Trade Mark of Quality/RS 510 A/B (scratched out)
Printed Blue Pig Cover
LIVEr Than You'll Ever Be/Oakland Records/14327/X-4172
Multi-Stamped Red/Blue Cover
LIVEr Than You'll Ever Be/Excitable Recordworks/4513-1 A/B
Printed deluxe B&W cover
Stones LIVEr Than Ever Be/Trade Mark of Quality/X14327/X-14328
Black Vinyl. Number Labels. Light Purple Rubber Stamp.
Stone Live/Dittolino Discs/Live'r-1/2
Paper insert of an enlarged back cover of "Get Yer Ya-Ya's Out!".
Gimme Shelter/Lurch Records Ltd./S-2110/2111
This is actually a Contra Band Music (CBM) release. Paper insert cover. Rubber stamped record jacket.
PEACE: Greatest Group On Earth None/AS 30142-1/B
Printed Snake Design Cover
Greatest Group On Earth/Black Dust Records/BLR-243364 A/B
Printed color cover.
Greatest Group On Earth - Berkeley Concert/3703 A/B
For Demo Only/No Label/1811 A/B
Stoned Live Stones/Slick Records
Compilation LP's using portions of the Oakland '69 show:
LIVEr Than You'll Ever Be/The Swingin' Pig /TSP 043
Deluxe cover for a 250 LP Limited edition on colored vinyl. This double LP completes all songs from the Oakland show except for Jumpin' Jack Flash and Under My Thumb which are New York, November 28th, 1st show and San Diego, November 10, 1969 respectively.
Stoned Concerts/Concerts Records Co./SIDE1/SIDE2
Printed B&W Cover. LIVEr and "Get Yer Ya-Ya's Out!" tracks!
The Best of the Rolling Stones/Immaculate Conception/4-A/B
Live In Concert
Printed cover of a nude lady on a tree branch on yellow paper.
The Best of the Rolling Stones/Immaculate Conception/4-A/B
Live In Concert
Very rare printed cover of Taylor/Jagger/Watts circa 1971.
The Best of the Rolling Stones/Immaculate Conception/5-A/B
Led Zeppelin, Jimi Hendrix, The Who,
Crosby, Stills, Nash & Young,
and Jethro Tull Live In Concert
Printed cover of a nude lady on a tree branch on dark orange paper.
Renny's Album/Ze Anonym Plattensplieler/ZAP 7886-A/B
Insert cover of Jagger holding a trophy. Originally used on TMoQ "Play With Fire" LP.
Stray Cat Blues/Toasted Records/25-914
2 LP of Renny's Album & C@&ksucker Blues titles. Printed color cover of nude lady swimming with gummy fish.
From San Francisco To Paris/Toasted Records/4518 A/B
The first of two LP's is LIVEr. Printed color cover of a lady in a bikini in the desert with a TV covering the upper portion of her body?!
Extended Play Vinyl:
"Slowly Rockin' On"/The Swingin' Pig/450001-A/B
Lime green vinyl . B&W cover shot of Jagger/Richards on their stools. Keith with a National Steel guitar.
The work of Trade mark of Quality is still held in tribute today by newer generations of underground recording companies. The Swingin' Pig most notably used a pig logo that was a variation on the TMoQ logos. They also used the similar pig scene drawn by TMoQ artist William Stout (now a commercial artist for a Hollywood movie studio) where the pig is sitting on a stool saying "We Hope Ya Like Dis One" (also a recent VGP CD title!). Other labels that pay tribute to TMoQ include Vinyl Gang Product who until recently used the "smoking pig" logo on it's CD's. Outsider Bird Records issues colored vinyl LP's with angled rubber stamped titles across the cover as was done by the original TMoQ releases.
The focus of this article is the vinyl but for those of you who weren't collecting during the vinyl age or if you sold your turn table there are a couple of CD's that were made from the original LP that you can use as a reference point (including the crackles):
"Vintage But Vigorous" World Production of Compact Music label
"Have A Beer" Teddy Bear Record label
More complete tape sources are also still available today on Vinyl Gang and Turd On The Run/Sister Morphine record labels. Note that the TOTR uses a difference but excellent tape source for the Oakland show.
"LIVEr Than You'll Ever Be" continues today to be a relevant landmark recording documenting the triumphant return of the Rolling Stones to live performances that unfortunately were no longer possible with founding instrumentalist Brian Jones. It is a significant time capsule that captures with excellent sound quality the return of Greatest Rock 'n Roll Band in world with a line up of musicians that would eventually produce the most significant live and studio performances of the Millennium!