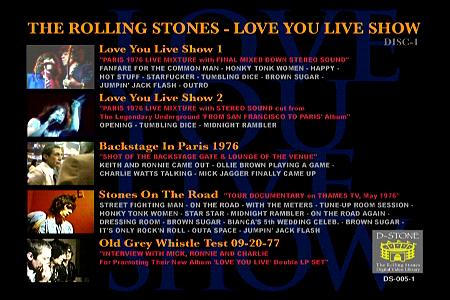 The Rolling Stones - Love You Live Show
Paris, France - August 4, 1976 - D-Stone - DS-005-1/2 - DVD-R2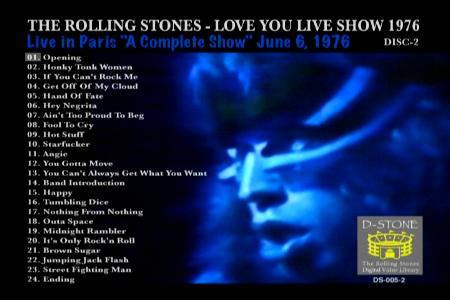 Geetarz Comments: Okay, ladies and germs, take all those shiny discs you have of the Paris '76 show and toss 'em out the window, 'cause D-Stone has come to town! This beautifully authored 2-DVD set not only includes the incomplete Paris show in impeccable quality "with final mixed down stereo sound" but also bits with remastered audio from the "San Francisco to Paris" album. Also includes footage backstage as well as "The Stones on the Road", a tour documentary shown on Thames TV in May, 1976. Then to top things off the viewer will find a clip from the "Old Grey Whistle Test" show broadcast on September 20, 1977 promoting the release of the "Love You Live" double LP set. And that's just Disc 1 !!! Disc 2 simply throws caution to the wind and provides the raw, complete show. An essential component to any Stones collection no matter how large or small - recommended.
Visitor Comments:
"I'm not a big fan of the early Stones, and unfortunately picture quality here isn't great, but the outstanding authoring job and superb audio quality (probably taken from audio source) makes this a winner, recomended !" - Zetti