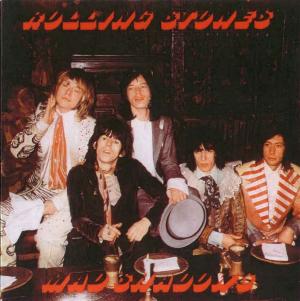 Mad Shadows
Sessions 1964 - 1973 - Scorpio - SB 6

Track List:

Hi Heel Sneakers
Stewed and Keefed
Tell Me Baby
Meet Me In the Bottom
Don't Lie to Me
1964 Blues Jam
Looking Tired
Have You Seen Your Mother, Baby
I Can See It
Everybody Pays Their Dues
Jumpin' Jack Flash
Honky Tonk Woman
Good Time Woman
All Down the Line
I Don't Know the Reason Why
32-20 Blues
Dancing With Mr. Dee
Criss Cross Man
Silver Train
Comments: Good collection of rare outtakes, including some new tracks that had previously never surfaced in the trading community. More information:

SCORPIO OM 93-171-10 [SC91022] Chicago, IL 6/10-11/64, Chess Studios Hollywood, CA 8/4-12/66, RCA Studios London, UK 3/68, Olympic Studios London, UK 5/69, Olympic Studios Los Angeles, CA 11/69, Elektra Studios Nelcote, FR 10/17-31/70, Mobile Unit Dallas, TX 6/23/72, rehearsals Kingston, JAM 11-12/72, Dynamic Studios 8s - VAR Hi Healed Sneakers * Stewed and Keefed * Tell Me Baby * Down In The Bottom * [a.k.a. Meet Me In The Bottom] Don't Lie To Me 1964 Blues Jam [a.k.a. And Mr. Spector and Mr. Pitney Came Too: A similar instrumental track of what would become Andrews Blues] Heart of Stone ["Metamorphosis" version] Looking Tired [RCA Studios September, 1965. Note the instrumental similarity to Robert Johnson's 32-20 Blues that comes up later. This is the earliest Johnson influence I have been able to detect] Have You Seen Your Mother Baby ? [An alternate vocal take] I Can See It [The vocal version] Everybody Pays Their Dues [Street Fighting Man in drag] Jumpin' Jack Flash [Yeah, Yeah, version from the painted faces promo video] Honky Tonk Woman [A studio take that features the Paris stanza, which can be heard in concert on Ya Ya's] Good Time Woman [First version of Tumbling Dice] All Down The Line [The acoustic version. This is still incredible to hear] I Don't Know The Reason Why [Tracks in at 10:22. The stereo version from Electra Studios 1969] 32-20 Blues [Dallas Rehearsals - 6/72] Dancing With Mr. D [An alternate take that features a Taylor solo that was edited out of the album take. Reason enough to leave the band!] Criss Cross Man [a.k.a.: Save Me. This was previously noted as being from the "Goat's Head Soup" sessions. This was also featured in the Japanese animation film "Metamorphosis"] Silver Train [An alternate take that jams] * From Chess Studio's Chicago June, 1964. This was the first release to feature these tracks in excellent quality from a tape source (no crackles on Stewed and Keefed). The TSP label soon followed.