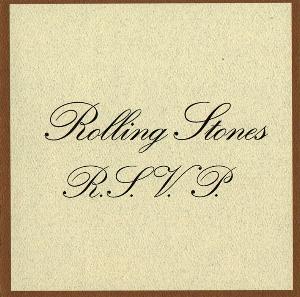 RSVP
Olympic Studios Outtakes - Cool Blokes - SB 6

Track List:

Sympathy For The Devil
No Expectations
Dear Doctor
Parachute Woman
Jigsaw Puzzle
I'm A Country Boy
Prodigal Son
Stray Cat Blues
Factory Girl
Salt Of The Earth
Stuck Out All Alone
Sweet Lucy
Highway Child #
Still A Fool #
Dear Doctor
Dear Doctor
Dear Doctor
Comments: Outtkes from the "Beggar's Banquet" Sessions, some nearly identical to the released versions. More reviews, from the Fingerprint File:

[Dave Heller] I spoke to Dave White about it last night. He has a tape of it and says it's good. He says there are multiple versions of a couple songs, and apparently they aren't that different, so the CD won't appeal to everyone. He thought the songs were slightly different mixes for the most part, but there are some alternate takes. He also said the CD was padded with "Sympathy" from the Black Box and the alternate "SFM" from early 45s and other CDs. I've only heard a tape of part of this elusive CD, and read a very favorable review. The CD is alternate takes and mixes, plus "Trident Mixes" material, in extremely good quality. There aren't any revelations to my ears, but I recommend this to "Beggar's" fans.

-----//----- [armstro5@interserv.com] This is a review of the newly released ROIO disc, RSVP. It's a limited edition release on an unspecified label. There were apparently 1500 copies pressed. The disc is essentially an alternate way to hear Beggar's Banquet. All the BB tunes--save for Steet Fighting Man--are presented here, as well a few left-over trax that have been available from other sources over the years. To quote the liner notes on RSVP: "Included on this disc are various mixes and outtakes. Some changes are quite subtle, others amazingly different." Also, the release claims that "this is the most complete documentation of the recording sesions done at Olympic Studios, for the Beggar's Banquet Album, all taken from the original reels." It has been reported widely that BB on CD is from something like 3rd-generation tapes. After listening to RSVP, this claims seems very plausible.

Now for the blow by blow on the trax. So the reader knows, the comparisons were made against the purportedly newly-mastered European release of BB. Comparisons were made realtime--or as near as a CD changer permits. As we all know, our ears have the shortest memory of any of our sensory organs...so there is a margin of error at play.

Sympathy For The Devil
     At 5:52, it comes in some 30 seconds shorter than BB. Some of this is accounted for by a 
     curious edit that omits the "killed the czar and his ministers" line. In general, the vocal is 
     more up front in mix. The "ooh ooh" chorus is significantly more distant in the mix, almost 
     unnoticeable at times. The bass and drums are WAY up front, creating a "choppier" feel to the 
     song....there are moments early in the tune, where a "pounding" of drums is felt on the off-beat.
     The song fades prematurely, accounting for the rest of the missing 30 seconds. Overall, a 
     "cleaner" (closer to master?) sound is detected.

No Expectations
     A flat-out different take...the same one found on Time Trip Vol. IV...but unlike that release--which fades early---this is the
     complete alternate take! It opens with studio banter between Mick and Keith concerning Stu's organ. As compared to the BB
     version, there is audibly more hiss, while the slide checks in lower in the mix. Keith's acoustic rhythm, on the other hand, has
     much greater definition. Mick's vocal is more stark and striking than BB.  During the final instrumentation passage, Jagger hums
     along very prominently, while Stu's organ competes for space with Nicky Hopkins' piano. Very nice. IMHO, a better overall
     listening experience than BB's version. One of the highlights of the disc.

Dear Doctor
     Again a different take than BB--take one, as identified by the lead-in---same as Time Trip Vol. IV--however, this time presented
     in better sound than on that disc. Bass lines more pronounced---instrumentation is noticeably more crisp in general. On this take,
     no falsetto during the "darling I'm sorry to hurt you" verse. Must-listening for all BB fans.

Parachute Woman
     Might be the best overall improvement on the disc. Same take as BB, but this one is definitely closer to the master.
     BB version sounds flat, dull and lifeless by comparison.  Oooh that bass!! Dramatic improvement in sound.
     Wider stereo separation.

Jigsaw Puzzle
     Same take as BB. 10 seconds shorter---I believe this is entirely accounted for by a slightly faster speed. The mix here is MONO.
     Vocal is a shade more distant in mix. Bass line more up front. BB version sounds "tinnier". Significantly different "feel" overall.
     Acoustic rhythm guitar dominates the song, unlike the BB mix.

I'm A Country Boy
     Listed on disc as "Instrumental."  Point of comparison here is the cut on Time Trip Vol. III....simply put, there is no comparison.
     RSVP's version is  "killer" soundwise. Same quality (and generation?) as rest of disc. These folks have definitely been snooping
     where they don't belong. Tremendous upgrade in sound...no "bleeding" of instruments. In effect, this song replaces SFM, which is
     not contained on this disc, leading to my theory that it was not on the BB reel from whence the rest of the disc was mined.

Prodigal Son
     Checks in a 3:02, as compared to BB's 2:56. Bass and bassdrum are FELT not just heard. WOW! Crank this one up!!
     It literally pulses with energy.  The acoustic strumming is not so much "in yo' face" as on BB. The harmonica is more up-front
     and detectable (Brian, is that you?). There is a wider stereo effect, with the guitars all off to one channel. Better than BB?
     Tough call, but a very welcome alternative way to hear this song. Impressive.

Stray Cat Blues
     One of the most curious of the cuts....it checks in at 5:03 as compared to BB's 4:41. However, most of this is accounted for by the
     fact that it stops 20 seconds or so into the song. Silence for a few seconds, then back to the beginning. It's as tho' the engineer
     rewound the tape. ??? In reality the song is shorter due to an earlier and complete fade not found on BB. The good stuff here is
     that there are very significant differences. Keith's lead underscores Mick's vocal during a middle section, very unlike BB.
     Bass is more prominent throughout, rhythm electric guitar more distant. But the real jaw-dropper on this one, is a previously
     unheard Jagger rap---done in a strut-like fashion--this starts during the tag or coda section about 1 minute before the song fades.
     This alone is worth the price of the disc, IMHO.

Factory Girl
     Same take presented in wider stereo than BB. Mick more prominent in mix. Completely different fiddle than BB -- comes in
     earlier, where mandolin does on BB. I like this fiddle better than BB--swings harder. Also, there are some apparently subtle
     variations to Keith's acoustic guitar....it is very possibly a completely different guitar track throughout.

Salt Of The Earth
     Like Jigsaw, presented here in MONO. Slide is more distant in mix. Drums and bass are more prominent. More separation of
     instruments; slightly more muddy on BB. Nothing really dramatic here in terms of sound improvement or difference.

Stuck Out All Alone
     Widely available outtake, but dramatically better sound than either TT III or Through The Past Starkly versions. No comparison.
     Nice inclusion of  this odd outtake.

Sweet Lucy
     Also known as Downtown Lucy or Downtown Suzie. Although not nearly as dramatic an improvement of sound as previous track,
     still some noticeable improvements from versions found elsewhere.

Highway Child
     My point of comparison is against the Time Trip III. This one is 10x better in sound. This is a raw cut no matter how close to the
     master you get. Great rocker, with seemingly only Charlie, Mick and Keith (riffing a la Can't You Hear Me Knockin') in
     attendance.

Still A Fool
     In all its 10 minutes of glory. Very close in sound to TT III -- only a slight improvement detectable. Still with disc crackle that
     identifies it as coming from an acetate.

Dear Doctor
     (1:15) Much different (and prematurely aborted) take. Harmonica work is especially different. Sound quality is perfect (like the
     rest of the disc).

Dear Doctor
     In MONO, same take as BB. Mix is very noticeable different in places. Mick's double vocal on final verse is inverted from
     BB---falsetto and "normal" voice are mixed opposite from that on BB. More depth and "feel" to acoustic guitar.

Dear Doctor
     Same as BB, but this time in wide stereo. Better overall sound quality, seemingly closer to master.

Overall, my evaluation of the disc is that for all BB lovers (that should be all  Stones fans), RSVP is a find of major proportions.
Yes, some differences to the released product are subtle, even undetectable to uneducated ears, while others are staggering and
instantly noticeable and fascinating. I urge everyone to seek out a copy and judge for one's self..

-----//-----

[942789u@merkland.rgu.ac.uk]
The recording is crystal clear - an improvement on abkco's stuff IMHO, possibly closer to the master tapes and with great choices on
mixing. The outakes are also in amazing quality - even better than the Black Box, or at least the same level.

-----//-----

[Parker, Jason, jparker@frost.com]
For all the early accolades, RSVP turns out to have only THREE tracks (mixes) new to the bootleg world:

     Stray Cat Blues-w/ extra vocals
     Factory Girl-w/ different fiddle
     Prodigal Son-1st time Stereo mix

Other than a newly 'discovered' tape which may be closer-to-master and of a lower-than-before generation source, all the versions and
outtakes, including SFTD and DD have been released before.

Most of the outtakes were copied from VINYL, as well!!

So, similar to Static in the Attic, this title has a few truly new items with a mixture of the same old stuff, in admittedly better quality.
If there wasn't more money to be made, we wouldn't be seeing these endless, mostly marginal upgrades.
(The people who have the best available, lowest generation tapes of unreleased Stones material, KNOW who they've traded to/sold to,
AND when their tapes end up on a Vinyl Gang bootleg, for example.)

To top off all of this particular RSVP-hype, I was stiffed by a *quote* reliable source for this CD, and never received anything for my
$30 money order.

-----//-----

[ChrisM42@aol.com]
Another Side of "R.S.V.P."
There are six reasons to call this a significant release in my opinion:

No Expectations - The great "Time Trip Vol. 4" take...this time complete. Differences include left & right channel acoustic guitar
strumming, and the keyboard outro.

Parachute Woman - Listen for the opening percussion in the right channel that is missing from the album version! Probably Keith's
palm hitting a solid spruce acoustic guitar top. Note the clear right channel acoustic guitar licks and fills.

Prodigal Son - Authentic John Lee Hooker foot stomp in the right channel! This is mixed way down on the studio version and is in the
"middle" of the track. It makes a big difference on the whole feel of the song, and when played at the proper volume it will rattle your
windows!

Stray Cat Blues - Probably the infamous "the song has too much bass" version that Anita Pallenberg sent Jagger & Richards back into
the studio to fix (reference: "Up and Down with the Rolling Stones" by Tony Sanchez). Note that the reverb sustains after the first tape
stop, so my guess is that is a playback that was used to add a particular overdub, such as heavy vocal reverb and ad-lib outro lines
missing from the album version.

Factory Girl - There is a fair amount of tape hiss on this, but the clarity and separation of the mandolin in the left channel and acoustic
guitar right channel is an upgrade for sure. The mandolin is middle-right on the album. The noticeably different fiddle tracks add to the
value of this alternate version. Musically much more interesting than the released mix.

Dear Doctor - The count in version and takes other than #1 are new to my ears. Note Keith's backing vocals on these takes.

No doubt the "filler" from old LP's including Downtown Suzie with the skip for the tenth time detracts, but the surfacing of new takes
in brilliant stereo from the 1968 Olympic Studios sessions are treasures that far outweigh the repurchasing of filler.
The album tracks sound like mud when compared to these new takes.

-----//-----

[jmarko@acad.suffolk.edu]
I called and should be able to get two of them. I've got a tape of it - it's MOSTLY meat, but there are a few real stupid choices on
there - like the OLD Downtown Susie with the skip in it, these guys could have CLEARLY gotten the better version ANYWHERE.

Outside of that there's a Sympathy For the Devil from either an acetate or a single with MASSIVE noise reduction. The rest are
phenomenal remixed (earlier mixes) of the rest of the album including an incredible No Expectations, Stary Cat Blues,
Jiggsaw Puzzle, Dear Doctor. However they did this, the mixes truly make BB sound more like a followup to Buttons as well as a very
weird album of choices and styles - it becomes more powerful and experimental. the acoustic playing is more prevelant throughout and
the entire album is more seperated and distinguishable, making it bigger and more of a "production". I think the mastering on this
album and Bleed really squelched the effect. While they are considered great albums, I can honestly say if this record came out it
would be heralded even higher, and if Bleed ever sounded like the this the Stones would have left the Beatles in the dust in many more ways.

Several numbers sound Beatle-esque in production (Dear Doctor f.e.) but because it's the Stones it's better edged and rockin.
It's less a country blues album this way.

-----//-----

[Dave Heller, dheller@oasys.dt.navy.mil]
There are definitely 2 different pressings of the RSVP CD.  However, I don't think one is a copy of the other.
The inserts are slightly different shades also, but both are equally sharp and clear.
The CD was very hard to obtain for a while, then suddenly everyone had it.  I think the CD was temporarily out of print, then more
were pressed at a different location.  If anything I suspect the "radio show" label with the scratched out matrix is the original.