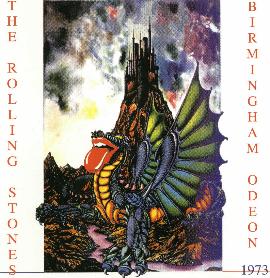 The Rolling Stones - Birmingham Odeon
Birmingham, England - September 19, 1973 - OH BOY 1-9168 - Aud 4

Track List:

Brown Sugar
Gimme Shelter
Happy
Tumbling Dice
Star Star
Dancing With Mr. D
Angie
You Can't Always Get What You Want
Midnight Rambler
Honky Tonk Women
All Down the Line
Rip This Joint
Jumping Jack Flash
Street Fighting Man


Visitor Comments: "This bootleg was the best version in circulation of this show - for nearly 15 years. But in 2007 - a Japanese label "Idol Mind" gave us Birmingham 1973 in real upgraded quality. It's called "Birmingham Remaster 1973". Dogs&Cats released it a few months later....after a little bit of EQ'ing. It's up to the listener to decide what's the best of those 2. But the CD listed here, Birmingham Odeon 1973 (Oh Boy) is to be avoided - as the quality is poorer than the newer version." - Erik S.