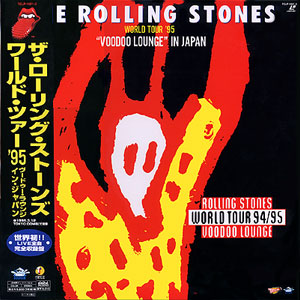 The Rolling Stones - Voodoo Lounge in Japan
Tokyo Dome - Tokyo, Japan - March 12, 1995 - DVD-R1

Track Listing:

Not Fade Away
Tumbling Dice
You Got Me Rocking
Live With Me
Rocks Off
Sparks Will Fly
Satisfaction
Angie
Sweet Virginia
Rock and a Hard Place
Love is Strong
I Go Wild
Miss You
Honky Tonk Women
Before They Make Me Run
Slipping Away
Sympathy For the Devil
Monkey Man
Street Fighting Man
Start Me Up
It's Only Rock and Roll
Brown Sugar
Jumpin' Jack Flash
Comments: Fantastic video released only in Japan on laserdisc, documenting the Stones' 7 shows at the Tokyo Dome. Shot with 22 cameras, it's a visual feast that captures the live show as no other Stones' video release ever has. DVD-R1 sourced directly from the currently OOP laserdisc release.