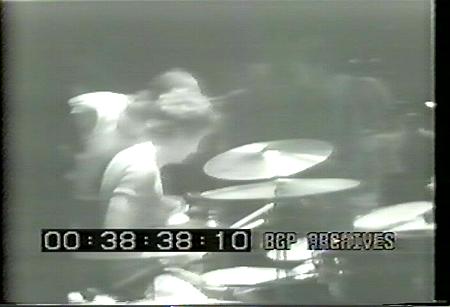 The Who - The Cow Palace
San Francisco, Ca. - November 20, 1973 - DVD-R2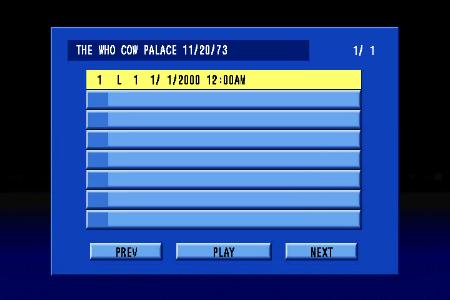 Oft-discussed but rarely seen, this video documents the Who's Legendary performance at San Francisco's Cow Palace in 1973. After taking a handful of tranquilizers, drummer Keith Moon slows, then passes out, at which point Pete Townshend goes to the microphone to ask not "Is there a Doctor in the House?" but ... "Is there a DRUMMER in the house?" With a volunteer selected from the audience, the Who again take to the stage in the best tradition of Rock and Roll! This unsung hero then became the second person to occupy what would in later years become the Musical Chair of Rock and Roll, the Drum Throne of The Who. As one would expect from video footage of this age, quality is rough at best but it's a treat to be able to watch this performance. Standalone authored DVD, no menus or bonus tracks.
Visitor Comments:
"Another one of 4 Reel's great Who titles. This was taped by Bill Graham's crew on one of those old Sony reel to reel, low resolution, black and white video recorders that were around in the 1968-1974 time period. So, this is probably the best version of this show you are ever likely to see. This was The Who's shortest North American tour ever.... only 12 shows total in the US and Canada. The quadrophonic backing tapes played in quadrophonic speakers around the main floor of the arenas were an absolute nightmare for the band to accompany. The 1973 technology wasn't good enough for The Who to perform Quadrophenia live. The band finally got it right in 1996 with an outstanding production of Quadrophenia. Of course, this crude video documents the famous collapse of Keith Moon onstage."
Visitor Comments:
"I was at this show. Keith actually passed out twice, 1st time during "Won't Get Fooled Again". They revived him, he came out kicking & screaming, & then passed out again (for the final time) during "See me feel me". The show sucked, the whole band was off even before Keith starting passing out. Quadrophenia was awkward to perfom live & the accoustics at the Cow Palace are & were horrible. This & Led Zeppelin in Oakland 1977 had to be two of the biggest letdown shows I ever saw. The Who made up for it in 1976 at SF's Winterland, they kicked ass, Moon performed the best a drummer ever has that I have seen that show. Zeppelin just plain sucked live, at least in 73 & 77. I guess they got lazy." - A. Nonny Moose
Visitor Comments:
"I was on my way home from humboldt state to LA Actually Keith fell off his throne twice. the first time pete came out and said Keith was not feeling well and after about 15 minutes they drug back out and set him on his seat. after about half way thru that number he tumbled over again. When Pete came out the next time he announced that Keith was done and so was the Who. When the crowd reacted in dissapointment he said well, can anyone out there play the drums? After a loud cheer pete said okay weíre taking auditions on the left hand side of the stage. After awhile a kid comes out holding his drum sticks above his head. During the rest of the show pete, john and roger all stood around him while they played. Was a show to remember. 2 nights later I saw them at the Forum in LA. No problems there. Also, Leonard Skynard was the opening act one of their first tours I believe. Havenít thought about this stuff in a long time, itís been fun." - Paul M.