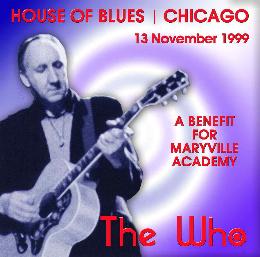 The Who - Live at the House of Blues
Recorded in Chicago on November 13, 1999 - CD-R2 - aud5/6

Disc 1:
1) I Can't Explain
2) Substitute
3) Anyway, Anyhow, Anywhere
4) Pinball Wizard
5) My Wife
6) Baba O' Riley
7) Pure and Easy
8) You better You Bet
9) Getting in Tune
10) Behind Blue Eyes
11) Magic Bus

Disc 2:
1) Boris the Spider
2) After the Fire (*)
3) Who Are You
4) 5:15
5) Won't Get Fooled Again
6) The Kids are Alright
7) My Generation
10) Let's See Action (with Eddie Vedder and C Average)
11) Eminence Front

Note: (*) songs with Pete on acoustic. Who ever thought we would hear the Who like this again? Loud, agressive, in-your-face, right and tight, this is a BAND, not three guys and assorted hired hands. It doesnt' hurt that this is an excellent, above average audience recording, that rivals some soundboards. Recorded close up, the sound is full range, rich and warm, very listenable. And the band is clearly enjoying themselves, Pete teasing the crowd by announcing a "new" song and then launching into Who classics, Roger performing an a cappella version of "the Seeker" to satisfy a persistent fan. This is better than rock and roll at its best - this is the WHO, up close and in your face. Highly recommended.