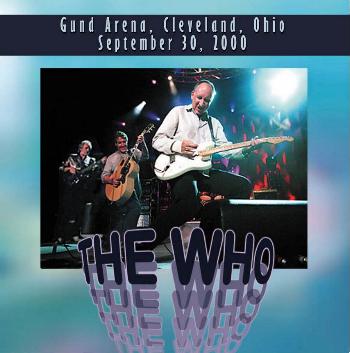 The Who - Gund Arena (Soundboard)
Cleveland, Ohio - September 30, 2000 - CD-R2 - SB 5

Disc 1:

I Can't Explain
Substitute
Anyway, Anyhow, Anywhere
Relay
My Wife
Baba O'Riley
Bargain
Getting In Tune
Sheraton Gibson
Behind Blue Eyes
Pinball Wizard
The Real Me
You Better, You Bet
Disc 2:

Who Are You
5:15
Won't Get Fooled Again
The Kids are Alright
Let's See Action
My Generation
Comments: FM broadcast with tracks missing from the radio show added from a fine audience recording. Most station idents removed as well. Really good piece. (DW). The highlight is a nice performance of "Sheraton Gibson".