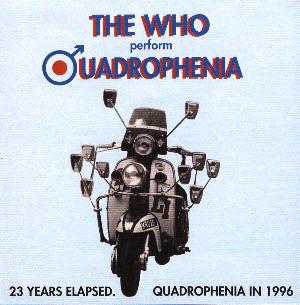 The Who - 23 Years Elapsed
GM Place - Vancouver, BC - October 16, 1996 - Polar Bear PB-057/058 - SB 6

Disc 1:

I Am the Sea
The Real Me
Quadrophenia
Cut My Hair
The Punk Meets the Godfather
I'm One
The Dirty Jobs
Helpless Dancer
Is It In My Head
I've Had Enough
5:15
Sea and Sand
Drowned
Bell Boy
Disc 2:

Doctor Jimmy
The Rock
Love, Rein O'er Me
I Am the Face
Won't Get Fooled Again
Behind Blue Eyes
Who Are You
Comments: Exactly what every Who fan should find under their pillow, left by the Bootleg Fairy: a perfect board of a great performance! A fun, exciting show. During the encore, Pete quips: "I use my television to watch pornographic videos" (laughs) "you have to be a REAL MAN to admit that!"