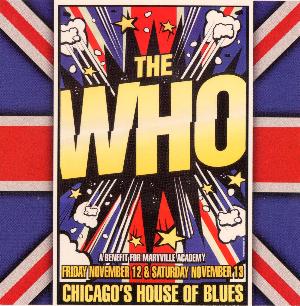 Bridge to the Blues
House of Blues - Chicago, Ill. - November 11,1999 - SubstituteReelRecordings - Aud 6

Disc 1:

Can't Explain
Substitute
Anyway, Anyhow, Anywhere
Pinball Wizard
My Wife
Baba O'Riley
Pure and Easy
Getting in Tune
You Better You Bet
Behind Blue Eyes
Tattoo
Mary Ann With Shaky Hands
I'm a Boy
Boris the Spider
Eminence Front
After the Fire
Disc 2:

5:15
Who Are You?
Magic Bus
Won't Get Fooled Again
Kids Are Alright
A Legal Matter
I Walk the Line / Ring of Fire
My Generation
Let's See Action (with Eddie Vedder)
See Me, Feel Me (Las Vegas, October 29)
Who Are You (Mountain View, October 30)
I Walk the Line (same)
Comments: Wow! What an incredible show. The first of two performances held at the House of Blues in Chicago as a benefit for the Maryvale Academy. Only 1000 lucky fans could attend each night - and now you can, too!