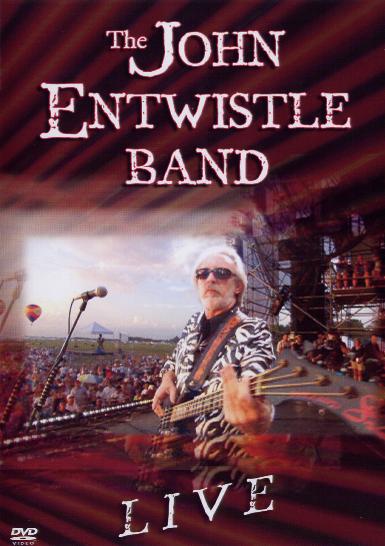 The John Entwhistle Band - Live
Manchester, Tenn. - 1999 - Image - 44 min.

Comments:Editorial Reviews - Amazon.com
The John Entwistle Band: Live finds the late Who bassist happily ensconced in his side project at the 1999 Itchycoo Park Festival in Manchester, Tennessee, playing a brief set for an appreciative crowd. Under the circumstances, Entwistle and his quartet wisely stick to Who covers, some composed by Pete Townshend ("The Real Me") and others ("Trick of the Light") by the Ox himself, though Who staples by other artists ("Summertime Blues," "Young Man Blues") help fill the bill. If Entwistle had an additional half-hour or so, he could have played some rich material from his solo work, though he does make time for "Horror Rock," co-written with pal and Entwistle Band co-founder/drummer Steve Luongo. The results are just fine: the British Invasion legend looks happy, guitarist Godfrey Townshend (no relation) does a credible Daltrey impersonation, and Luongo turns this disc into a tribute (complete with a touching eulogy) to his friend. --Tom Keogh
Description: This performance captures legendary Who bassist John Entwistle and his own band performing live in an outdoor setting at twilight hour. The concert features numerous original John Entwistle songs never before filmed or released as well as never-before-seen footage of John at home, on the road and behind the scenes with his own band mates. Songs include: Horror Rock, The Real Me, Had Enough, Success Story, Trick of the Light, Shakin' All Over, Summertime Blues, Young Man Blues. Filmed in High Definition.