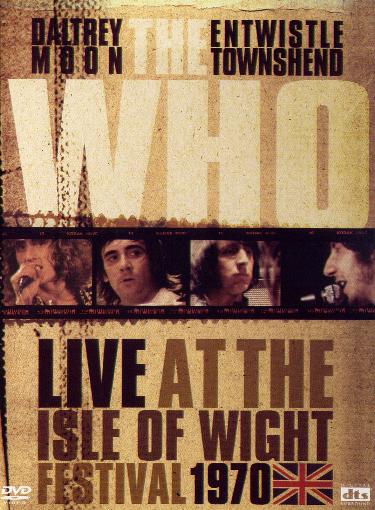 The Who - Live at the Isle of Wight Festival 1970
August 30, 1970 - Eagle Vision 0 125 min.

Comments: The complete performance, newly remastered, replaces the earlier Live at Isle of Wight release. Newly remixed in 5.1 DTS and Dolby Digital, as well as a new interview with Pete Townshend.
Filmmaker Murray Lerner's documentary Message to Love: The Isle of Wight Festival--The Movie took more than a quarter-century to make it to theater screens. But when it finally did, Lerner's footage of the Who's incendiary performance at that open-air show proved to be a real highlight. Lerner's complete coverage of the group's appearance, generally considered by true believers to be among their greatest shows, can be seen in this excellent concert film. A full year after the band's ragged concert at Woodstock (at which guitarist Pete Townshend, according to legend, was suffering the ill effects of a drug-spiked drink), the Who brought their potent act to the troubled Isle of Wight fest, making rock & roll history with a magnificent noise. Except for an allusion or two by singer Roger Daltrey, there's no mention in the film that the band was between their lengthy tour in support of Tommy and the recording of an album they would eventually scrap (substituting it with the epochal Who's Next). This concert contains three then-new tunes from the aborted project (and they're so awful you'll instantly understand why it was dropped), but much more important is the band's rendering of an abridged but thrilling Tommy and full-blooded shouts of some old warhorses: "Shakin' All Over," "I Can't Explain," and "Magic Bus." Comic relief is provided by the late Keith Moon, whose exchanged witticisms with Townshend grow lengthy enough at one point to demand an actual, discrete, click-to scene of their own on the DVD release. Otherwise, as far as the DVD goes, there are no other goodies; this great concert speaks for itself. --Tom Keogh
In 1970, 600,000 people came to the Isle of Wight to attend a music festival. 2 A.M., August 30th, The Who appeared and gave one of the most memorable performances of their career, with early hits and live Who staples culminating in one of their last-ever complete run throughs of the seminal rock opera "Tommy." Songs: Heaven and Hell, I Can't Explain, Young Man Blues, I Don't Even Know Myself, Water, Shakin' All Over, Spoonful/Twist and Shout, Summertime Blues, My Generation, Magic Bus, Overture, It's a Boy, Eyesight to the Blind (The Hawker), Christmas, The Acid Queen, Pinball Wizard, Do You Think It's Alright, Fiddle About, Go to the Mirror, Miracle Cure, I'm Free, Tommy's Holiday Camp, We're Not Gonna Take It.