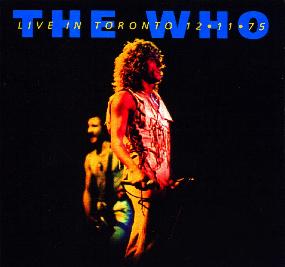 Live in Toronto
Toronto, Canada - December 11, 1975 - Substitute Records - Aud 5

Disc 1:

Can't Explain
Substitute
My Wife
Baba O'Riley
Squeeze Box
Behind Blue Eyes
Dreaming From the Waist
Boris the Spider
Magic Bus
Disc 2:

Amazing Journey
Sparks
Acid Queen
Fiddle About
Pinball Wizard
I'm Free
Tommy's Holiday Camp
We're Not Gonna Take It
See Me, Feel Me
Summertime Blues
My Generation
Join Together
Road Runner
Comments: A great recording, it's like being there! This is one of those rare occasions where an audience recording can in some ways overshadow a soundboard, in that the listener gets the ambience missing from a close-miked board recording. Crank it up!