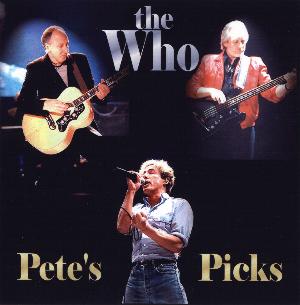 Pete's Picks
Various - CD-R2 - SB 6

Disc 1:

Anyway, Anyhow, Anywhere San Diego 8/17/00
Relay 8/17
Johns Bass solo Shoreline 8/22?
Rabbit's Hammond solo-My Generation Shoreline Amp.
Kid are Alright 2000 - Are You All Right Kids?
Can't Explain Denver 8/24/00
Substitute 8/24
Guitar solo AAA 8/24
Don't Even Know Myself 8/24
Drowned W. Palm Bch., FL. 9/24
Pinball Wizard 9/24
The Real Me 9/24
Won't Get Fooled Again Tampa 9/26
Behind Blue Eyes Cleveland 9/30
Disc 2:

Who Are You MSG NYC 10/3/00
End of My Generation MSG 10/4
5:15 Longish MSG 10/4
I'm One Pete Solo MSG 10/6
Drowned Manchester 11/23
Baba O'Riley 11/23
Behind Blue Eyes Solo Studio #1
Behind Blue Eyes Solo Studio #2
Comments: Completely fascinating - a window into the mind of Pete Townshend, these are clips that he personally chose and put on his website over the course of the Y2K Tour. The man does have *quite* the ear, as there is something about each of the clips that is interesting, different, or compelling. Recommended.