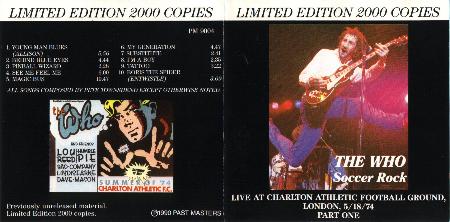 Front Cover
Front Inside
Back Cover
The Who - Soccer Rock
London, England - May 18, 1984 - Past Masters - PM9004 - TBA
Disc 1:
Young Man Blues
Behind Blue Eyes
Pinball Wizard
See Me, Feel Me
Magic Bus
My Generation
Substitute
I'm a Boy
Tattoo
Boris the Spider
Disc 2:
Drowned
Punk Meets the Godfather
Dr. Jimmy
Won't Get Fooled Again
Summertime Blues
Baba O'Riley
Naked Eye
My Generation
Taken from tapes (or low generation copies of tapes) mixed by P.T. for a radio broadcast on a local London station. Some tape hiss. Occasionally sound disappears from one of the stereo channels this might be faults on the master tapes though. Review TBA.