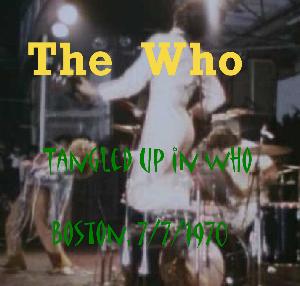 Tangled Up in Who
Tanglewood Music Shed - Lenox, Massachusetts - July 7, 1970 - Hiwatt - SB 4

Disc 1:

I Can't Explain
Water
Young Man Blues
Overture / It's a Boy
1921
Amazing Journey
Sparks
Eyesight to the Blind
Acid Queen
Pinball Wizard
Do You Think It's Alright / Fiddle About
Tommy Can You Hear Me
There's a Doctor / Go to the Mirror
Smash the Mirror
Miracle Cure / I'm Free
Tommy's Holiday Camp
We're Not Gonna Take It
See Me, Feel Me
Disc 2:

My Generation
Boris the Spider
Summertime Blues
Shakin' All Over
Magic Bus
Young Man Blues
My Generation
Naked Eye
Too Much of Anything
Comments: This from the Who Boots site:
Absolutely stunning 2 disc set. There are some minor sound deviations at the beginning of most songs and dialogue, but these are quickly corrected. There is a flaw in "Eysight To The Blind" which runs directly in to "Christmas" (not listed on the back cover) without changing track numbers and the "change-over" suffers a minor drop-out and becomes muddled for approx. 2-3 seconds. "My Generation" becomes quite muddled half-way through. Between-song dialogue has been left intact which allows for a nice flowing feel to the show.This was the last show of the U.S tour and also the last time The Who performed Tommy in it's (near) entirety in the U.S until the 25th Anniversary Tour in 1989. The packaging is quite impressive and features a beautiful laminated gatefold cover with picture cardboard inner sleeves. Disc one is red, disc two is blue, both state "Cool Engine"on them. Reference to the"Hiwatt" label is only made on the back cover. Get it, listen to it and hang on to this one.
Cover art scans are nonoriginal.