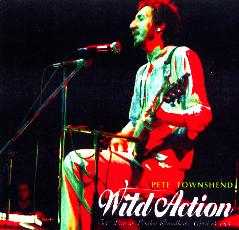 Pete Townshend - Wild Action
London, England - April 14, 1974 - Aud 4

Track List:
1) The Seeker
2) Big Bossman
3) Substitute
4) Amourguse
5) If I Were a Carpenter
6) Happy Jack
7) Tattoo
8) I'm a Man
9) Behind Blue Eyes
10) Going to New York
11) Tapes of My Generation
12) North Country Girl (incomplete)
13) Let's See Action
14) Pinball Wizard
15) See Me Feel Me
16) My Generation
17) Magic Bus
18) My Generation

Note: Pete Townshend's first ever solo gig. Recorded at London's "Roadhouse" Theater. Fascinating show captures Pete at the height of his songwriting prowess, and at one point he even plays a cassette tape to the audience to explain the concept of a demo to them. This recording is incomplete, missing part of "North Country Girl".