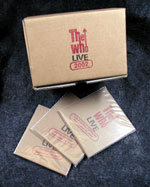 The Who - Encore Series - Collector's Box 25 CD Set


Comments: This specially created collector's edition contains ALL 25 official bootleg recordings from the Who Encore series, a 60 page 5-inch by 7-inch color book of tour photos and commentary all encased in a 5.5-inch by 7.5-inch by 5-inch Collector's Box. What better way to commemorate this unforgettable tour. You will be able to listen to EVERY official bootleg available, recorded and mixed live from the sound board. It is as close as you will get to reliving The Who Live experience.

Shows included in this set: July 3: Mountain View CA, July 4: Marysville CA, July 6: George WA, July 26: Mansfield MA, July 27: Camden NJ, July 29: Hershey PA, July 31: New York NY, August 3: New York NY, August 4: New York NY, August 23: Auburn Hills MI, August 24: Tinley Park IL, August 25: Noblesville, IN, August 27: Grand Rapids MI, August 28: Columbus OH, August 30: Holmdel NJ, August 31: Wantagh NY, September 14: Las Vegas NV, September 15: Irvine CA, September 17: Los Angeles CA, September 19: Englewood, CO, September 21: Dallas TX, September 23: Chicago IL, September 24: St Paul MN, September 27: Mansfield MA, September 28: Toronto ON.