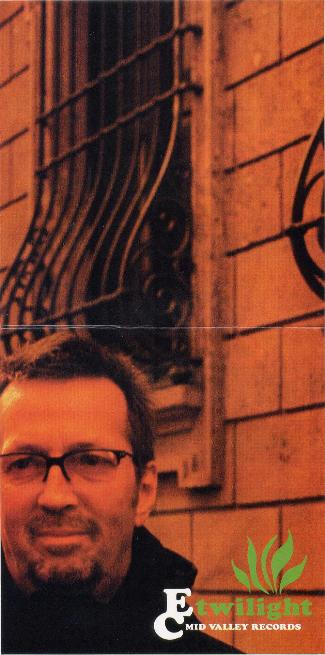 Eric Clapton - Twilight
Chicago, Ill. - April 9, 1998 - Mid Valley 063/064 - SB 6

Disc 1:

My Father's Eyes
Pilgrim
One Chance
River of Tears
Goin' Down Slow
She's Gone
Tears in Heaven
Layla
Change the World
Disc 2:

Old Love
Crossroads
Have You Ever Loved a Woman
I Shot the Sheriff
Wonderful Tonight
Tearing Us Apart
Cocaine
Sunshine of Your Love
Comments:

Notes: Taken directly from the master ALD recording and then remastered, the Mid Valley release as usual blows away the competition, namely the DJ Copy release "The Supreme Being". Interestingly, the Mid Valley folks did come to the same decision 3BR came to when they remastered "The Supreme Being" as "Pilgrimmage to Chicago", namely in that MV did edit out a small segment of "Have You Ever Loved a Woman" to eliminate distortion present in the master ALD recording. Sound quality wise, I must say that the MV release does edge out the 3BR release, which is understandable since they did work from the source and not the DJ Copy release. Bonus tracks on the end of Disc 2 flesh this one out nicely. Recommended.