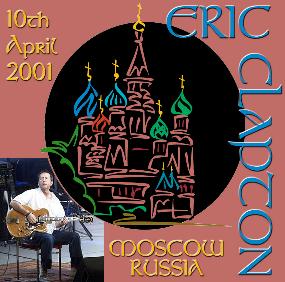 Eric Clapton - Kremlin Convention Centre
Moscow, Russia - April 10, 2001 - 56:46 / 64:03 - Aud 4

Disc 1:

Key to the Highway
Reptile
Tears in Heaven
Bell Bottom Blues
Change the World
My Father's Eyes
River of Tears
Going Down Slow
She's Gone
It's Alright
Finally Got Myself Together
Disc 2:

Got You On My Mind
Don't Let Me Be Lonely Tonight
Travelling Light
Hoochie Coochie Man
Stormy Monday
Cocaine
Wonderful Tonight
Layla
Sunshine of Your Love
Somewhere Over the Rainbow
Comments: No track markers. There are two different audience recordings of this show in circulation, this one was recorded to minidisc and the other apparently to analog cassette. It's hard to say which is the better recording, they're fairly equal in terms of clarity, simply with the inherent characteristics of the recording medium. Check the disc times (listed above) to see which version you have. If you have this disc with no track markers, you have the orignal CD-R copy which was transferred as follows:

MiniDisc -> MD Player Analog Out -> CD-Recorder Analog In -> CD-R

This particular recording is also available in a remastered version, the remastered version was sourced directly to CD-R digitally from the original MD recordings, no analog stages were involved. This show is an interesting listen if only to hear the band *completely* blow the intro to "Layla", and as if that wasn't bad enough they lose it again at the end of "Sunshine of Your Love". Please pay attention comrades!