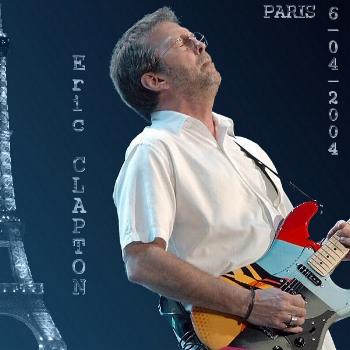 Eric Clapton - Paris 2004
Paris, France - April 6, 2004 - Defense - DSP-CD20/21 - Aud 4

Disc 1:

Intro: Robert Johnson
Let it Rain
Hoochie Coochie Man
Bell Bottom Blues
I Shot the Sheriff
Milkcow's Calf Blues
When You Got a Good Friend
They're Red Hot
Kind Hearted Woman Blues
Got to Get Better in a Little While
I Want a Little Girl
Change the World
Disc 2:

Have You Ever Loved a Woman
Badge
Wonderful Tonight
Cocaine
Layla
Sunshine of Your Love (with Robert Randoph)
Got My Mojo Working (with Robert Randoph)
Comments: Disc times for this release are 63:22/56:06. Please note that there are at least four different recordings in circulation of this particular performance! Check disc times and comments to help identify your particular version. This recording is slightly inferior to the Lefffe release, with a bit more bass. One of the better performances of the 2004 European tour, with a sizzling "Got to Get Better", but this is Gadd's night - check out his drumming on "Sunshine of Your Love", a bit different from his usual take on this song.