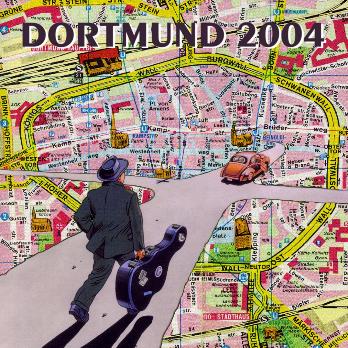 Eric Clapton - Westfalenhalle
Dortmund, Germany - April 14, 2004 - CD-R2 - Aud 3

Disc 1:

Let it Rain
Hoochie Coochie Man
Walk Out in the Rain
Bell Bottom Blues
I Shot the Sheriff
Milkcow's Calf Blues
When You Got a Good Friend
They're Red Hot
Kind Hearted Woman Blues
Got to Get Better in a Little While
Have You Ever Loved a Woman
Disc 2:

Badge (incomplete)
Wonderful Tonight
Layla
Cocaine
Sunshine of Your Love (*)
Got My Mojo Working (*)
Geetarz Comments: There are two seperate versions of this recording - this is the original, and the other, titled Come on Dortmund, is merely an over-compressed and over-normalized hack of this original recording, but with the same disc times. Not a bad recording, but a good deal of echo takes this from what would be an "Aud 4" down to a more reasonable "Aud 3". This is an easy recording to identify as at the very beginning of "Hoochie Coochie Man" someone next to the taper shouts. Overall the show is good - perhaps not "great", but I think perhaps a guy near the taper was really awed by the performance of "Badge" as during the instrumental break he sounds like he's about to have a massive Orgasm. Listen to the soundclip and you be the judge ...

Visitor Comments:


"This can't be true, as I know 100% sure, that the boot called 'Come on Dortmund' is a original recording. I have no idea who "over-compressed and over-normalized" it and who put it on that network. There was some work done on the original MD-recording before burned on CD and distributed to other traders in Germany. So the boot 'Westfalenhalle' must be the original 'Come on Dortmund'-recording and someone tried to improve the sound and then put in the network.

By the way, the title comes from an audience shout. I guess it was the 'orgasm man', who was rather drunk...

Ahrrr, things are so complicated today! This means, that the cover-art for the 'Westfalenhalle'-show is also not the original cover-art, although it is very nice indeed, featuring a map of the downtown Dortmund.

The second cover scan is the original cover art for the second Frankfurt 2004 recording (disc times 57:32/54:33) you are reviewing under 'Festhalle'. It was done by the same taper and is called 'More love' as a nod to the sticker on Robert Randolphs pedal steel guitar. So the taper has done something to distinguish his recording from others, it was just lost somewhere on the way to you..."