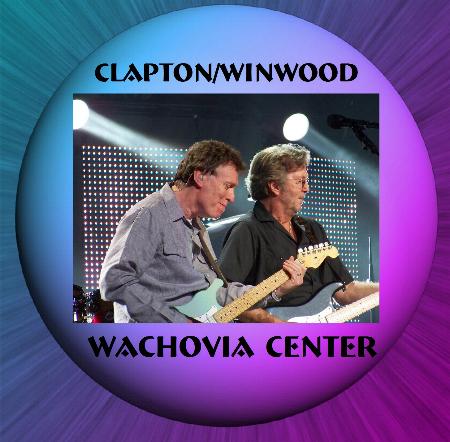 Front Cover
Back Cover
Eric Clapton and Steve Winwood - Wachovia Center
Philadelphia, Pa. - June 12, 2009 - CD-R2 - Daspyknows - Aud 5
Disc 1:
Intro
Had to Cry Today
Low Down
After Midnight
Sleeping on the Ground
Presence of the Lord
Glad
Well Allright
Tough Luck Blues
Tell the Truth
Pearly Queen
No Face, No Name, No Number
Forever Man
Georgia On My Mind
Disc 2:
Driftin'
Nobody Knows You
Layla
Can't Find My Way Home
Split Decision
Little Wing
Voodoo Chile
Cocaine
Encore Applause
Dear Mr. Fantasy
Tascam DR-100 Schoeps MK4 > Reutelhuber Box > Soundforge 9.0e > CDWav > FLAC (Level 8)

Recorded Section 5 Row C 4 seats right of dead center 24/48

Second stop on the east coast swing. I had the pleasure of hooking up with the Philly Schoeps tapers. Treated me like one of their own. WKL_Taper hooked me up with Nick C and we ran MK4s and MK41s side by side. Compare the two, both came out real nice. Good time had by all.
Geetarz Comments:
An excellent audience recording, a bit drier than the Jerseyboy source. Recommended.