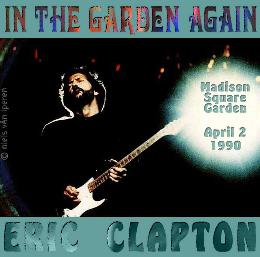 Eric Clapton - In the Garden Again
New York, New York - April 2, 1990 - Geetarz 033/024 - CD-R2 - Aud 4

Disc 1:
1) Before You Accuse Me (incomplete, missing beginning)
2) Running On Faith
3) I Shot the Sheriff
4) White Room
5) Can't Find My Way Home
6) Bad Love
7) No Alabis (special guest Daryl Hall) / Old Love

Disc 2:
1) Tearing Us Apart
2) Wonderful Tonight
3) Band Intro
4) Cocaine
5) A Remark You Made / Layla



Note: a great show, woefully incomplete but what's here is worth having! Beginning with a pounding version of "Before You Accuse Me", EC and Phil Palmer have some great interplay. "Running on Faith" offers some nice slide work by Palmer, and of course tasty lead work by EC. "Sheriff" here in a performance far surpassing that of EC's original album version, with a long extended solo at the end, with a magnificent segue in a flurry of notes into "White Room". Palmer's lead work over the chorus is great, single note singing leads mirroring the chords, and even gets EC's approval as he whips his head around and grins. Of special note here are a guest appearance from Daryl Hall on 'No Alabis', and one of EC's finest-ever performances of 'Old Love'. During 'Love', EC prowls the stage on an extended solo break, making a full circle around behind the drums and slamming into a full scale assault as he rounds Alan Clark's position, as usual stopping on a dime to end the number. And what a great white suit! Recommended. Also available in more complete form on DVD.


Mastered by Geetarz: VHS (Master) > S-VHS (copy) > CD-R.