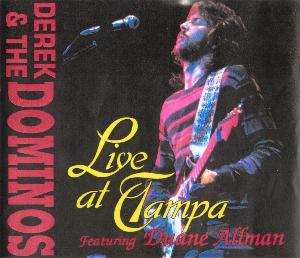 Derek and the Dominos - Live at Tampa
Curtis Nixon Hall, Tampa, Florida - December 1, 1970 - Red Light RL-1001/2 - Aud3 (mono)

Disc 1:
1) Layla
2) Got to Get Better In a Little While
3) Key to the Highway
4) Why Does Love Got to Be So Sad?

Disc 2:
1) Blues Power
2) Have You Ever Loved a Woman?
3) Bottle of Red Wine
4) Let it Rain

Note: This show is of historical importance, as it is apparently the only extant live performace with Duane Allman on guitar.

A comment from a friend: As background info, if you are not aware, the Live at Tampa and Soul Mates boots are from different sources. The Live at Tampa recording was originally made by a Tampa resident, who was fairly close to the stage. The other tape was made by a non-Florida resident who had much worse seats, and the source quality is less consistent. From what I have been able to find out, and this includes hearing from some Allmans fans, is that Allmans representatives tracked down the second source shortly after Duane's death. (TD)
Click here for more information about the different versions of this show.