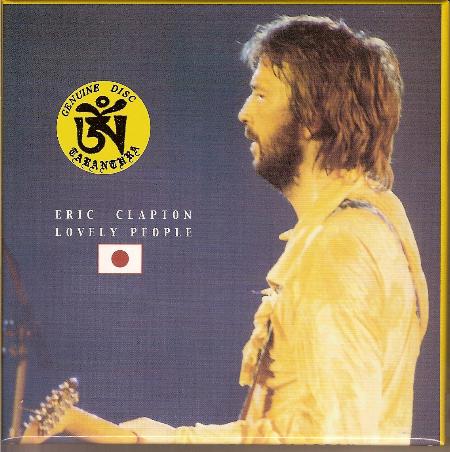 Cover Art
Front Cover
Back Cover
Cover Art
Cover Art
Cover Art
Cover Art
Cover Art
Cover Art
Eric Clapton - Lovely People
Tokyo, Japan - November 1/2, 1974 - Tarantura


1st Show:
Friday, November 1, 1974
from Song Brothers' Master Cassettes
TCDEC 23 - 1,2

Disc 1:
1. Opening
2. Let It Grow
3. Can't Find My Way Home
4. Little Rachel
5. Tell The Truth
6. Singing The Blues
7. Badge

Disc 2:
1. Willie And The Hand Jive
2. Get Ready
3. I Shot The Sheriff
4. Have You Ever Loved A Woman
5. Layla
6. Little Wing
7. Ending - going home

2nd Show:
Saturday November 2, 1974
from Mister Peach's Master Cassettes
TCDEC 24 - 1,2

Disc 3:
1. Opening
2. Smile (acoustic)
3. Let It Grow (acoustic)
4. Can't Find My Way Home (acoustic)
5. Better Make It Through Today
6. I Shot The Sheriff
7. Key To The Highway
8. Willie And The Hand Jive
9. Get Ready

Disc 4:
1. Badge
2. Presence Of The Lord
3. Singing The Blues
4. Layla
5. All I Have To Do Is Dream
6. Blues Power

The Band:
Eric Clapton   guitar, vocals
Jamie Oldaker   drums
Dick Sims   keyboards
Carl Radle   bass
George Terry   guitar
Yvonne Elliman   backing vocals
Marcy Levy   backing vocals

All artwork included (8 scans). Both the box and seperate
show covers leave out track 104...Little Rachel.

Lineage:
Audience>?>Silvers (box 054/130)>EAC>Flac frontend 6

My rating (scale 1-6) IMHO, its audience from cassettes
recorded 33 years ago. All the mastering in the world won't
make it into Aud 6. Just keep that in mind and you will like
both shows very much.

EC's comment after track 405:
Oh shut up. I want to introduce a friend of mine. OH SHUT UP!!