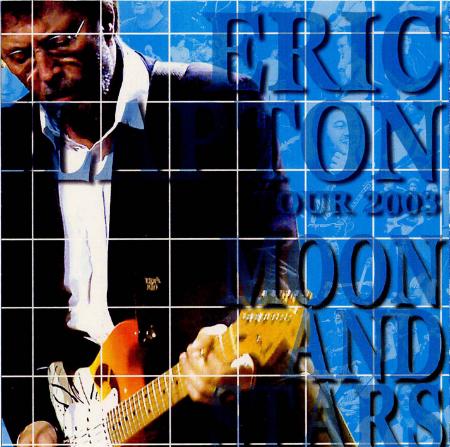 Front Cover
Back Cover
Back Inside
Eric Clapton - Moon and Stars
Yokohama, Japan - November 26, 2003 - E&C World Star Records - EC-0028 - Aud 6
Disc 1:
When You've Got a Good Friend / Crossroads
I Shot the Sheriff
Bell Bottom Blues
Reconsider Baby
Can't Find My Way Home
White Room
I Want a Little Girl
Got My Mojo Working
Hoochie Coochie Man
Change The World
Before You Accuse Me
Disc 2:
Badge
River of Tears
Lay Down Sally
Wonderful Tonight
Cocaine
Knockin' On Heaven's Door
Layla
Sunshine of Your Love
Band Intros / Somewhere Over the Rainbow
The first part of the performance (Disc 1) is excellent, with a blistering rendition of "White Room". You can always tell when EC's getting into this song, as he stretches out on the vocals and goes UP in pitch on the chorus. Really tasty stuff. Unfortunately the band peaks a little early in the set, leaving the second half tasty but unremarkable. Still, this is a worthy recording to acquire if only for the first half! Please note, there is also a recording with the same name from the 2006 tour.