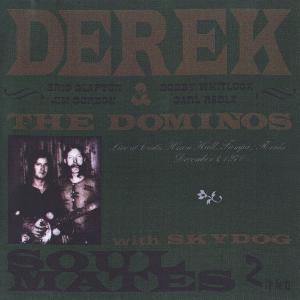 Derek and the Dominos - Soul Mates 2
Curtis Nixon Hall, Tampa, Florida - December 1, 1970 - Mid Valley 38/39 - Aud 3

Disc 1:
1) Layla
2) Why Does Love Got to Be So Sad?
3) Blues Power
4) Have You Ever Loved a Woman
5) Bottle of Red Wine
6) Got to Get Better in a Little While

Disc 2:
1) Key to the Highway
2) Let it Rain
Outtakes for the Dominos Second Album recorded at Criteria studios during August and September 1970, and Olympic Studios in London, England on April 14, 1971:
3) Jam
4) Chocolate
5) Snake Lake Blues
6) Mean Old Frisco
7) High
8) I've Been All Day
9) Got to Get Better in a Little While
10) One More Chance
11) It's Hard to Find a Friend
12) Till I See You Again

Note: This show is of historical importance, as it is apparently the only extant live performace with Duane Allman on guitar. better quality, and more complete than Live at Tampa. In addition, it appears to be a remastered/modified version, as brought to my attention:
This disc sounds much different than Soul Mates. The parts of Layla where you can hear people in the crowd talking are gone, but there is a bit of background hiss, and there isn't any on SM1. So I went and dug up Live at Tampa, and made an astonishing discovery....SM2 is a cleaned up version of the better source tape!!! It still has a bit of the hiss present on Live at Tampa, but is much more listenable. (TD)
Click here for more information about the different versions of this show.