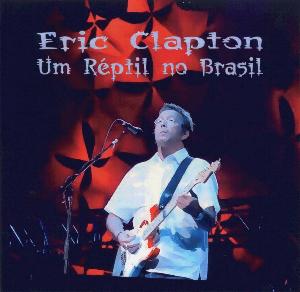 Um Reptil No Brasil
Praša da Apoteose - Rio de Janeiro, Brazil - October 13, 2001 - 3BR Records - 3BR 2013 - SB 6

Disc 1:

Got You On My Mind
Tears in Heaven
Bell Bottom Blues
Change the World
My Father's Eyes
River of Tears
Going Down Slow
She's Gone
Disc 2:

Badge
Hoochie Coochie Man
Cocaine
Wonderful Tonight
Layla
Sunshine of Your Love
Somewhere Over the Rainbow
Comments: Ever hear the story about Babe Ruth, about how he approached the plate, and pointed out over the outfield, and then hit the home run out of the park? Well, you got the audio equivalent right here. Ok, so let's begin with the basics. First, you source a master recording of the show, recorded straight to PC from digital satellite. Then, you unleash the hounds of remastering, and await the results. Reordered from the original broadcast, and the world's most annoying announcer deleted, it's all here. Now, the original broadcast wasn't in stereo - it is now! Comparing this to the original recopding is sort of like comparing backwoods Tennessee corn mash with aged cognac - yeah, they'll both give you a kick, but one's a hell of a lot smoother and won't leave you with a headache in the morning. The original mix of this show is interesting, too, as Andy Fairweather-Low's guitar is mixed in at a high level, leading to a dual-guitar, Allman-Brothers type feel. It's possible to get a new appreciation for his contributions to tbe band listening to this one. A hot, crunchy soundboard that will leave you gasping and crying for more. Recommended.