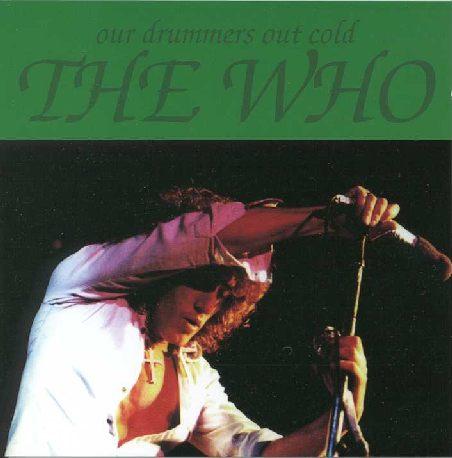 Front Cover
Front Inside
Back Cover
Back Inside
The Who - Our Drummer's Out Cold
San Francisco, Ca. - November 20, 1973 - Wholiday Music WH 008/9 - TBA
Disc 1:
I Can't Explain
Summertime Blues
My Generation
I Am the Sea
The Real Me
Punk Meets the Godfather
I'm One
Helpless Dancer
5:15
Sea and Sand
Drowned
Bell Boy
Disc 2:
Dr. Jimmy
Love, Rein O'er Me
Won't Get Fooled Again (Keith Passes Out)
Pete tells audience "Our Drummer's Out Cold ..."
Magic Bus (Keith Passes Out again)
Pete asks "Can Anyone Play the Drums?"
Smokestack Lightning / Spoonful (w/ Scott Halpin)
Naked Eye (w/ Scott Halpin)
This recording doeuments the now-legendary opening night of the 1973 Tour where drummer Keith Moon, having consumed tranquilizers, passed out on stage. In true rock-and-roll fashion, the band recruit audience member Scott Halpin to come on stage and play drums for the remainder of the show.