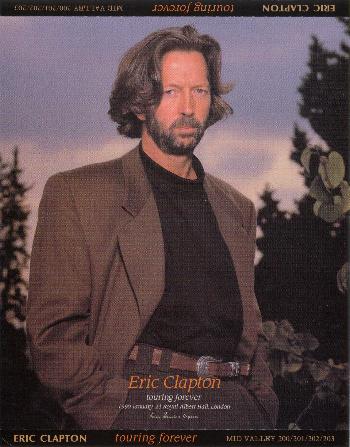 Eric Clapton - Touring Forever
London, England - January 24, 1990 - Mid Valley 200-203

Disc 1: Radio Mix

Piano Intro
Pretending
Running on Faith
I Shot the Sheriff
White Room
Can't Find My Way Home
Bad Love
Lay Down Sally
Before You Accuse Me
Old Love
Disc 2: Radio Mix

No Alibis
Tearing Us Apart
Wonderful Tonight
Cocaine
Remark You Made
Layla
Crossroads
Sunshine of Your Love
Knocking On Heaven's Door
Disc 3: Live Mix

Piano Intro
Pretending
Running on Faith
Breaking Point
I Shot the Sheriff
White Room
Can't Find My Way Home
Bad Love
Lay Down Sally
Before You Accuse Me
Old Love
Disc 4: Live Mix

No Alibis
Tearing Us Apart
Wonderful Tonight
Cocaine
Remark You Made
Layla
Knocking On Heaven's Door
Crossroads
Sunshine of Your Love
Disc 5: Bonus Audience Recording

No Alibis
Tearing Us Apart
Wonderful Tonight
Band Introductions
Cocaine
A Remark You Made
Knockin' On Heaven's Door
Crossroads
Sunshine of Your Love
Comments: As noted previously on this site, there exist three distinct soundboard mixes of the January 24, 1990 performance held at the Royal Albert Hall. The first is the radio mix broadcast on the Westwood One radio network in the U.S., and can be found on any number of titles, including among them Class Blues Vols. 1 and 2, Wonderful Night, and Love, to name but a few. Discs 1 and 2 of this Mid Valley release feature this radio mix, as noted by several edits (Eric's comments about TV cameras being present during his welcome, the edit is poorly done and easy to spot) and the absence of several songs from the setlist. Sourced directly from the master tapes, this release offers the best sound quality to date of this material.
Secondly, one finds a different mix taken from a reference video of the complete concert - this different version features the complete setlist, but also has the audience mics pushed much higher in the mix. This recording has previously been released on such titles as Four Faces 1990 and Quartet. It's a matter of personal preference which is the "better" sound. Discs 3 and 4 of the Mid Valley release are sourced from a high quality / low generation source and have been remastered and tweaked a bit, which is a bit of a mixed blessing as it's also brought the room echo more to the fore. Overall, a worthy effort, although some may prefer the more natural sound of Quartet.
Some sets also include a 5th "bonus" disc, which features audience recordings of certain selections. One wonders why Mid Valley did not simply make this a 6-CD set, with the complete audience recording - not to mention that they dropped the ball and also did not include the slightly different mix featured on the rare Australian Four Faces TV broadcast.
A+ for packaging and sound quality - but only a "B" rating for not including the complete audience recording and bonus material from the Aussie TV show!