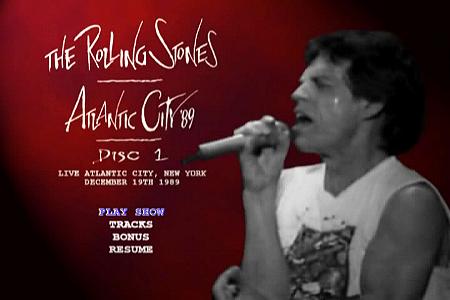 The Rolling Stones - Atlantic City 1989
Atlantic City, NJ - December 19, 1989 - RSVP - 165 min.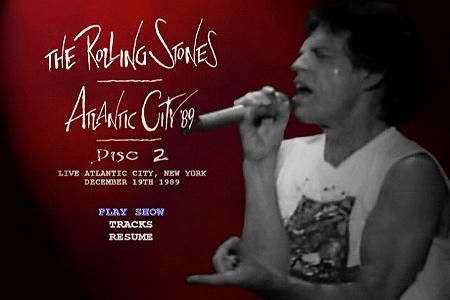 Geetarz Comments: Tired of getting version after version of this performance in the quest for the "holy grail" of quality? From multi-generation VHS copies, to VideoCDs, to DVD made from a master VHS, then to DVD made from a master Super VHS source. But wait - those are all in mono! So now here's a version to stop that relentless quest. Great picture quality and check this out: Original mono sound, Dolby 2.0 Stereo, Dolby 5.1 Surround, and DTS 5.1 Surround! And just in case all that wasn't confusing enough - now RSVP has remastered this release with even better audio to improve on the already-improved version. When will the madness end? This version is indentifiable as it has different menus than the previous RSVP release, and also contains bonus tracks in the form of a pre-show "documetary". Hopefully with the monetary proceeds from this bootleg, the RSVP folks can buy a spell checker for their computer!
Visitor Comments:
"This is probably my all time favourite gig, so I have to be careful when comenting this. Well, picture on this one is MUCH BETTER than RSVP's previous release, and probably on the same quality level of the one that this site list as "better". Still, although it features DTS 5.1 fantastic audio quality, it ain't the best version available, this place is won by the Jointrip release, that this site will list soon;anyway, if you can get THIS release, you will CERTAINLY be satisfied." - Zetti